The Sky Walk At Pennsylvania's Kinzua Bridge Is Terrifyingly Fun
Are you brave enough to experience this sky walk in Pennsylvania? Mother Nature simply won't take no for an answer but, then again, neither will the Kinzua Bridge. When Mother Nature unleashed her fury with a furious tornado that ripped through Kinzua State Park in 2003, she succeeded in bringing down all but one-third of the 2,053 foot long Kinzua Bridge.
But, despite the vicious storm, part of the Kinzua Bridge refused to collapse. Today, the 600 feet of bridge that survived has become one of the state's most spectacular sky walks, promising visitors a stunning view of the forest floor and the remains of the bridge scattered haphazardly some 300 feet below.
Off we go on a virtual tour of the Kinzua Bridge Sky Walk in Pennsylvania that will make your stomach drop (and that will likely kickstart your wanderlust).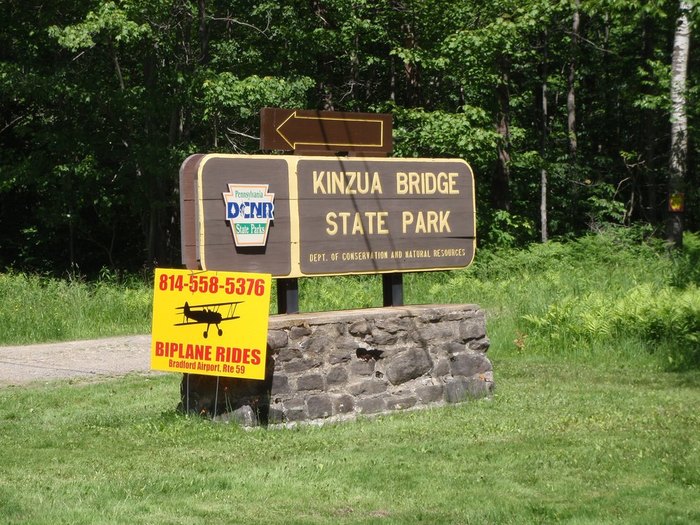 Take A Virtual Tour of the Kinzua Sky Walk
Now that you've seen the spectacular photos, check out this equally beautiful video.
Click here to visit the official website of Allegheny National Forest. Or, go here for Facebook.
How lucky are we to have this sky walk in Pennsylvania? The Kinzua Bridge Sky Walk is far from the only gem in our beautiful state. Here are 10 stunning places in Pennsylvania that you also have to visit at least once.
Address: Kinzua Bridge State Park, 296 Viaduct Rd, Mt Jewett, PA 16740, USA
OnlyInYourState may earn compensation through affiliate links in this article.
Sky Walk In Pennsylvania
August 07, 2020
What is the most scenic village in Pennsylvania?
You'll find an abundance of scenic places in Pennsylvania, including the enchanting Eagles Mere. Home to just 115 residents, the tiny village is the perfect destination for a quiet getaway. It boasts museums, restaurants, and shops, and it's within easy driving distance of Worlds End State Park. If you want to feel as though you've stepped into the past, plan a visit to Lititz, a gorgeous small town. Stroll through Main Street that's dotted with charming shops and quaint restaurants. Then, see if you agree that these are the most beautiful small towns in Pennsylvania.
What are the best day trips in Pennsylvania?
We can find a ton of fun things to do in Pennsylvania, especially if we want to go on a day trip. If you need a day to yourself or with your best friends, set off on this wine and waterfalls day trip in Pennsylvania. The day trip will take you to a selection of wineries and waterfalls, including Ricketts Glen State Park (and 21 waterfalls!), Worlds End State Park, and Pappy Jack's Winery. For another unforgettable day trip, spend the day at Penn's Cave, the only all-water cave in Pennsylvania. You'll go on a tour on the water then you can check out the rest of the park that features animals and gem mining.
What one-of-a-kind destinations can I visit in Pennsylvania?
Kinzua Bridge Skywalk is definitely a one-of-kind destination in Pennsylvania. If you like dining in really unique restaurants, plan a visit to The Depot at Doolittle, a restaurant that was once a railcar. In fact, you can dine in one of two former railcars – The Diner Car (a 50's diner with all of the good-old fashioned dishes) or The Parlor (a fine dining experience). Wolf Sanctuary in Lititz is another one-of-a-kind destination. Home to rescued wolves, the sanctuary welcomes visitors for guided tours and for special moonlight tours throughout the year.
Address: Kinzua Bridge State Park, 296 Viaduct Rd, Mt Jewett, PA 16740, USA
OnlyInYourState may earn compensation through affiliate links in this article.