The Hidden Beaches Road Trip That Will Show You Pennsylvania Like Never Before
We don't need to hop on a plane to distant places to have an amazing summer, do we? Stay within the cozy confines of Pennsylvania during the warmer months without missing any of the sun, the fun, or the adventure. Embark on this road trip that will take you to some of the best hidden beaches in Pennsylvania that boast soft sand, crystal clear water, and plenty of opportunities for relaxation. Ready to hit the road?
Visit our Google Maps link for directions and to customize your road trip.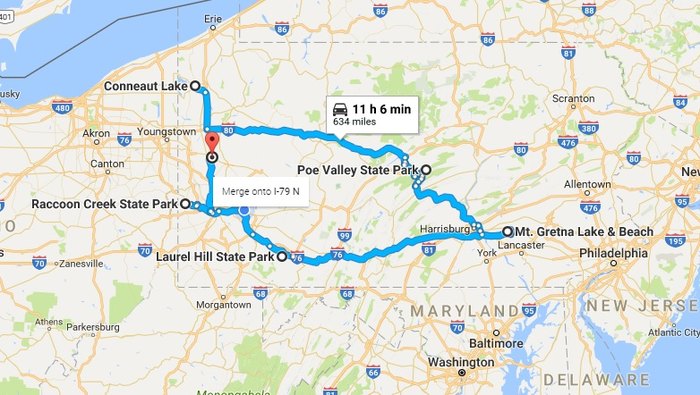 Are you ready to embark on this road trip to the best hidden beaches in Pennsylvania? Don't forget to pack everything you'll need for an unforgettable adventure – a swimsuit, beach towels, a beach chair, and plenty of sunscreen. You might also want to consider hitting the road and discovering some of the most spectacular waterfalls in PA.
OnlyInYourState may earn compensation through affiliate links in this article.
More to Explore
Best Hidden Beaches In Pennsylvania
What are the prettiest beaches in Pennsylvania?
Sink your toes into the sand at Laurel Hill State Park, the best sandy beach in Pennsylvania and certainly one of the prettiest. The 1,200-foot beach leads into Laurel Lake.
If you prefer being surrounded by forest, visit Poe Valley State Park, flanked by Bald Eagle State Park. Poe Valley's pristine sandy beach provides an idyllic setting for catching some sun, throwing a Frisbee, or running into Poe Lake.
What are the best beach towns in Pennsylvania?
While Pennsylvania doesn't have beach towns like neighboring Atlantic City, New Jersey, it does boast some picturesque towns with spectacular beaches, including:
Mount Gretna is a small walkable town, home to only 200 Pennsylvanians, that features a sandy beach, shops, and an old-fashioned ice cream parlor.
Erie's a classic beach town with boardwalks, restaurants, and shops. Beachgoers can visit 11 different beaches. For breathtaking beach views (but no swimming), stop by Erie Bluffs.
What beaches have the clearest water in Pennsylvania?
Presque Isle State Park's beaches lay claim to some of the clearest water in the state. Beachgoers can visit one of 11 beaches, all leading into the clear waters of Lake Erie, at the popular state park.
Tobyhanna State Park certainly lands a spot in the running for the beach with the clearest water in Pennsylvania. The 170-acre, crystal-clear lake provides an ideal setting for swimming, kayaking, canoeing, and boating. If you've been searching for the "best quiet beaches near me," you've found one.
Related Articles
Explore Pennsylvania