Your Ultimate Guide To Winter Attractions And Activities In Oregon
Winter in Oregon invites you to embrace a delightful blend of indoor and outdoor activities, creating a truly marvelous experience in the Beaver State. It doesn't matter if you're an adventure seeker or prefer cozy indoor pursuits. There are many things to do in Oregon in winter. One of the signature Oregon winter activities is hitting the slopes. The state is home to exceptional ski resorts like Mount Hood Meadows and Mount Bachelor, offering thrilling skiing, snowboarding, and tubing opportunities amidst the pristine mountain landscapes. As far as cheap things to do in Oregon in winter are concerned, step outside into nature! The winter season transforms the Oregon coast and other natural wonders into a magical spectacle. The state's renowned waterfalls, like Multnomah Falls in the Columbia River Gorge, are adorned with icicles and a snowy backdrop, creating a captivating sight.
Holiday Events In Oregon
Oregon's holiday season casts a magical spell, offering a diverse tapestry of festive events and experiences. From the enchanting lights of the Oregon Zoo's ZooLights to charming holiday markets like Portland's Christmas Bazaar, there are so many fun things to do in Oregon in winter. You can immerse yourself in the warmth of community celebrations, visit Santa's workshops, or enjoy the culinary delights at local festivals. In Oregon, the holidays are a time of joy, wonder, and cherished memories waiting to be made.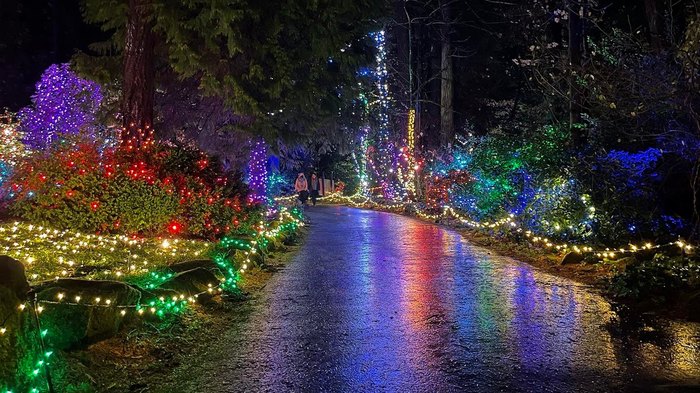 Christmas Towns In Oregon
Oregon transforms into a winter wonderland during the holiday season, and its Christmas towns are the epitome of festive charm. From the historic streets of Jacksonville, adorned with twinkling lights, to the quaint Alpine-style village of Leavenworth, there's a magical Christmas experience waiting in every corner of the state. The spirit of the season is alive in these Christmas towns, where you can enjoy traditional festivities, holiday markets, and the joyous ambiance that makes Oregon a destination filled with Yuletide cheer.
Outdoor Activities
Winter in Oregon unveils a wonderland for outdoor enthusiasts. From thrilling skiing and snowboarding on the slopes of Mt. Hood to exploring snow-covered trails in the Cascade Mountains, the state offers endless opportunities for adventure. Winter hiking, snowshoeing, snowmobile, and fat biking allow you to embrace the stunning landscapes blanketed in white. For a relaxed escape, don't miss the captivating sights of frozen waterfalls and the soothing experience of soaking in natural hot springs. Some of the best family things to do in Oregon in winter involve bundling up and being outside!
Winter Getaways
Oregon's winter accommodations offer a cozy retreat amidst the beauty of the season. You can choose from charming lodges nestled near the mountains, where you wake up to snow-covered vistas or opt for a luxurious stay at a ski resort with easy slope access. As far as romantic things to do in Oregon in winter go, these day trip getaways take the cake. The state's historic inns, boutique hotels, and quaint Oregon cabins provide a warm and inviting atmosphere, while hotels in Portland and other cities offer urban comfort. In Oregon, winter accommodations cater to every taste, ensuring a memorable stay.
Have you started creating your winter itinerary yet? From free things to do in Oregon in winter to overnight lodging, the Beaver State sure does come alive once the temperature drops. Enjoy a coastal escape to walk the winter shoreline of Cannon Beach, hike the mountains around Crater Lake, or take a dip in the bubbling hot springs. Out of all the best places in America to visit during the winter season, the Pacific Northwest reigns supreme in my book. Because, after all, where else can you go dog sledding, visit a sno-park, and then wine up basking in a hot spring all in one exciting day trip?
OnlyInYourState may earn compensation through affiliate links in this article. As an Amazon Associate, we earn from qualifying purchases.
Related Articles
Explore Oregon