The Oregon Ghost Town That's Perfect For An Autumn Day Trip
With its deep pioneer roots and history with the Gold Rush and Western expansion (and of course, the eponymous Oregon Trail), there are quite a few ghost towns hiding in Oregon. Shaniko is one of the most intriguing. Once known as the Wool Capital of the World, this town in north-central Oregon was established in 1901 and business boomed — the town's manufacturers made a cool $3 million in 1903. But what goes up must inevitably come down, and Shaniko fell hard and fast. Today it's one of the state's most well-preserved and intriguing ghost towns. As we enter the season of delightfully frightening fun, the Shaniko ghost town in Northern Oregon is perfect for an autumn day trip.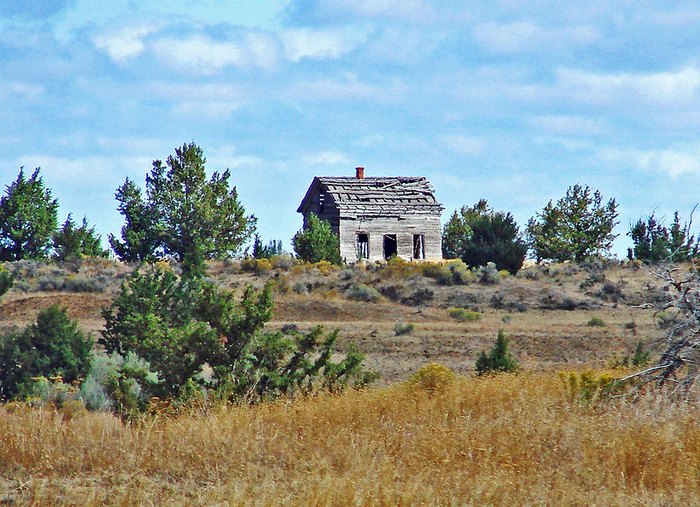 Have you ever visited Shaniko, a haunting ghost town in Northern Oregon? In our opinion, this eerie ghost town is perfectly suited for a fun autumn day trip!
If you're into exploring the Beaver State's haunted history, there are numerous ghost towns you'll want to check out. Each of these forgotten towns has its own story — and they are all stories worth hearing!
Address: Shaniko, OR 97037, USA
OnlyInYourState may earn compensation through affiliate links in this article.
shaniko ghost town in northern oregon
September 25, 2022
What are some other ghost towns in Oregon?
In addition to Shaniko, an unsettling and well-preserved ghost town in Northern Oregon, there are some other notorious ghost towns in Oregon definitely worth checking out — that is, if you're not easily spooked. Some of these towns include Canyon City, Boyd, Mitchell, Millican, and Whitney; these Oregon ghost towns are located all over the state and are in various places of disrepair. One of our favorite ghost towns to explore, however, is a place many folks don't even know exists. It's Sumpter, Oregon, and it's an absolute must-visit for Beaver State ghost hunters. Like many ghost towns in the West, gold was discovered here in the late 1800s, making Sumpter a bonafide boomtown in less than a decade. This thriving town was also a major railway hub. The Sumpter Valley Railway moved people and goods from Baker City through Sumpter and on to Prairie City, with commerce and travel bustling in Eastern Oregon during this time. In fact, at one time, Sumpter was home to the largest gold dredges in the U.S.! But, this house of cards could never stand; the gold dried up, folks up and left, and Sumpter's fate was all but sealed. Until … well, you just have to visit and/or read about this Oregon ghost town for yourself!
What's the most famous abandoned place in Oregon?
One of the Pacific Northwest's most infamous abandoned places, the Wreck of the Peter Iredale looms on the Oregon Coast. You'll find this ghost ship at Fort Stevens, a once-active (and now abandoned) military base that's now part of the 4,200-acre Fort Stevens State Park. While the base is intriguing on its own, the star here is the abandoned ship located just off the fort's southern shores. Known as the Peter Iredale Shipwreck, this is one of the most haunting places in Oregon. In its heyday, the Peter Iredale was a four-masted, steel barque sailing vessel that was quite commanding; it was part of a well-known shipping fleet. But on Oct. 25, 1906, the ship encountered thick fog and unrelenting tides en route to the Columbia River, and the crew had to bail out, leaving this beautiful vessel to become a haunted ship off the coast of Fort Stevens. Today, visitors can admire this hauntingly beautiful ghost ship from afar.
Address: Shaniko, OR 97037, USA
OnlyInYourState may earn compensation through affiliate links in this article.