20 Amazing Oregon Secrets You Never Knew Existed
When people think of Oregon, images of Crater Lake, Multnomah Falls, and Mount Hood tend to come to mind. And for good reason! While these attractions are all nothing short of incredible, the Beaver State is so much more than a few superlative superstars. It's also full of countless natural wonders that are a bit more off the beaten path, and equally worth exploring. From secluded alpine lakes and hidden waterfalls to desert hot springs and under-the-radar trails, here are 20 hidden places in Oregon that are sure to take your breath away, and leave you in total awe of the beauty of the Beaver State!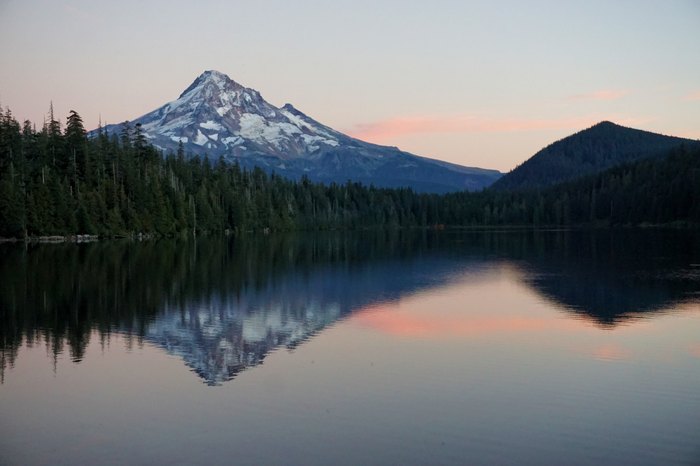 How many of these hidden places in Oregon did you know about? Have you been to any of these destinations? What are some other hidden places in Oregon you'd like to share with fellow readers? Let us know in the comments below, or nominate your top picks here!
Address: Owyhee River, Oregon 97913, USA
Address: Leslie Gulch, Oregon 97910, USA
Address: Summer Lake Hot Springs, Oregon 97640, USA
Address: Pillars of Rome, Old Ion Hwy, Jordan Valley, OR 97910, USA
Address: Lost Lake, Oregon 97014, USA
Address: Opal Creek, Oregon, USA
Address: Harts Cove, Oregon 97149, USA
Address: Natural Bridges, Brookings, OR 97415, USA
Address: Newberry National Volcanic Monument - Deschutes NF, Bend, OR 97702, USA
Address: Terwilliger Hot Springs, Oregon 97413, USA
Address: Dee Wright Observatory, McKenzie Hwy, Blue River, OR 97413, USA
Address: Waldo Lake, Oregon, USA
Address: Upper Klamath National Wildlife Refuge, Highway 140, Klamath Falls, OR 97601, USA
Address: The Oregon Garden, 879 W Main St, Silverton, OR 97381, USA
Address: Toketee Falls, OR 97447, USA
Address: Valley Of The Giants, Oregon, USA
Address: Steens Mountain Wilderness, P9V8+93, Diamond, OR 97722, USA
Address: Koosah Falls, Oregon 97413, USA
Address: Tamanawas Falls, Oregon 97041, USA
Address: Wallowa Mountains, Oregon 97846, USA
Hidden places in Oregon
September 02, 2021
What are some hidden places in Oregon that even lifelong Oregonians don't know about?
Oregon has no shortage of beautiful nature scenes to take in. And while we all have our favorite places to visit when we want a secret refuge, it's hard to really summarize why some are the best of the best. Here are 13 hidden gems in Oregon that might be off your beaten path, but are totally worth discovering for yourself (and even some of you lifelong Oregonians might not know about them all!)
What are some fun day trips in Oregon?
If you enjoy exploring hidden places in Oregon, then you will definitely want to check out our Hidden Gem Road Trip, a 15-hour, hidden-gem tour de force of the Beaver State! Many of these places make for fun day trip adventures, too, so if you just have an afternoon to spare, we recommend checking some of them out!
What are some hidden waterfalls in Oregon?
Well-known cascades like Multnomah Falls and Silver Falls tend to steal the spotlight (and for good reason, because they are magnificent!), but there's so much more to Oregon's waterfalls than these stars! Take Hug Point Falls, for example. Located on a picturesque piece of Oregon shoreline, Hug Point State Recreation Site is one of Oregon's most incredible treasures: the wondrous Hug Point Falls. It's a 15-foot waterfall that gently cascades down a sandstone drop-off along the Oregon Coast. It will completely take you by surprise, and is just one of several little-known waterfalls in Oregon that are worth a visit!
Address: Owyhee River, Oregon 97913, USA
Address: Leslie Gulch, Oregon 97910, USA
Address: Summer Lake Hot Springs, Oregon 97640, USA
Address: Pillars of Rome, Old Ion Hwy, Jordan Valley, OR 97910, USA
Address: Lost Lake, Oregon 97014, USA
Address: Opal Creek, Oregon, USA
Address: Harts Cove, Oregon 97149, USA
Address: Natural Bridges, Brookings, OR 97415, USA
Address: Newberry National Volcanic Monument - Deschutes NF, Bend, OR 97702, USA
Address: Terwilliger Hot Springs, Oregon 97413, USA
Address: Dee Wright Observatory, McKenzie Hwy, Blue River, OR 97413, USA
Address: Waldo Lake, Oregon, USA
Address: Upper Klamath National Wildlife Refuge, Highway 140, Klamath Falls, OR 97601, USA
Address: The Oregon Garden, 879 W Main St, Silverton, OR 97381, USA
Address: Toketee Falls, OR 97447, USA
Address: Valley Of The Giants, Oregon, USA
Address: Steens Mountain Wilderness, P9V8+93, Diamond, OR 97722, USA
Address: Koosah Falls, Oregon 97413, USA
Address: Tamanawas Falls, Oregon 97041, USA
Address: Wallowa Mountains, Oregon 97846, USA