This Old-School Amuseument Park In Oregon Is Quite Possibly The Most Delightful Day Trip Ever
There's something about an old-fashioned amusement park that invites warm feelings of nostalgia, something we could all use a bit more of nowadays. Luckily for us in the Beaver State, one of the best old-school amusement parks in Oregon that's been entertaining Portlanders for well over a century is alive and well! If you're looking for fun things to do in Portland, Oregon, Oaks Amusement Park is a treasure of a place that's quite possibly the most delightful day trip in the state!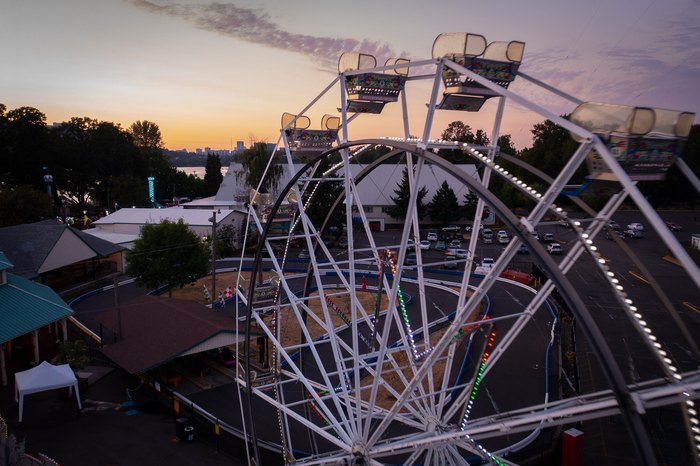 Come and be part of the history of this beloved attraction in Rose City — Oaks Amusement Park is an only-in-Oregon experience that's pure fun. Nostalgic and perfect for the whole family, if you're looking for something fun to do in Portland, Oregon, this is it.
Looking for more fun and unique activities in Portland, Oregon? Why not try your hand (literally!) at axe throwing or head out on one of these great day trips in Portland?
OnlyInYourState may earn compensation through affiliate links in this article.
Address: Oaks Amusement Park, 7805 SE Oaks Park Way, Portland, OR 97202, USA
Amusement Parks in Portland, Oregon
February 13, 2023
What are some other fun amusement parks in Oregon?
Looking for more fun things to do in Oregon of the amusement park variety? Check out these epic OR amusement parks that make for ridiculously fun day trips in Oregon:
Bullwinkle's - Wilsonville, Oregon. Hands down, one of our favorite destinations for a summer day trip in Oregon is Bullwinkle's Wilsonville, an all-inclusive destination that's part amusement park, part adventure park, and 100% pure, unadulterated fun

. You won't know where to begin when you visit this incredible destination that offers mini-golf, laser tag, bumper boats, go-karting, zip-lining,  an old-school arcade, bowling alley, water park, and so much more! Eschew screens? There is even an adventure park that includes aerial ropes courses, zip lines, rock climbing wall perfect for those looking to hone their climbing and stunt skills.

Prehistoric Gardens - Port Orford, Oregon. Located in Southern Oregon along the 101 coastal highway, the Prehistoric Gardens are not your average tourist attraction. Here you'll find a beautiful garden teeming with 23 life-sized dinosaur replicas built over the course of 30 years. It's a dinosaur theme park of prehistoric proportions! This dinosaur theme park in Oregon was created in 1953 by a local family and is the perfect mix of roadside attraction and epic theme park.
Wings and Waves - McMinnville, Oregon. A massive, 71-000 sq. ft. *indoor* water park in Oregon? Boarding now! One of Oregon's coolest aqua parks, a day at Wings and Waves will totally make you feel like a kid again -- in the best way possible. Inside this massive indoor waterpark (Oregon's largest, by the way), pools, slides, rides, and fun beckon. The park boasts 10 waterslides totaling more than 2,000 feet, with four slides coming from the retired Evergreen International Airlines Boeing 747 aircraft that's on the roof. If you're looking for an over-the-top (literally!) day trip in Oregon with your friends, family, and/or kids this is it.