The Epic Park In Oregon Where You Can Take Home 30-Million-Year-Old Fossils
Did you know that you can go on your very own fossil hunting expedition right here in Oregon? The Wheeler High School Fossil Beds are overflowing with evidence of prehistoric life, dating back millions of years. This unique fossil park (fittingly located in the town of Fossil, OR) is the perfect place to uncover your own piece of Earth's ancient history. Take a look at this fossil park in Oregon: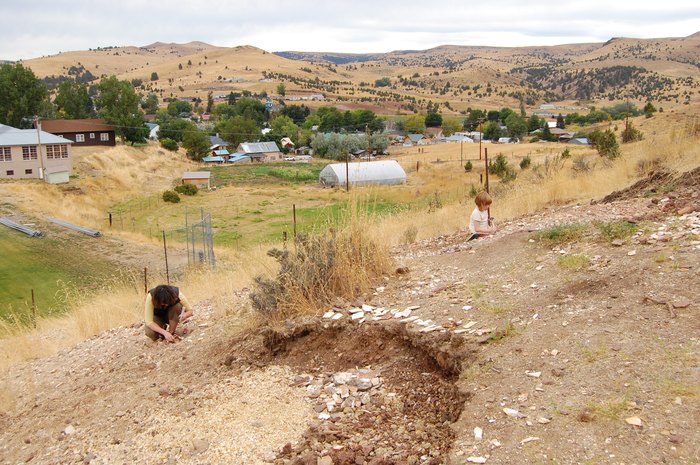 The Wheeler High School Fossil Beds are located at 600 E B St., Fossil, OR 97830. Note that both the park and Oregon Paleo Center are open by appointment during the winter season. For more information and to plan your visit, click here.
Have you visited this park before? Share your thoughts and experiences with us below!
For more fun nature activities in the Beaver State, check out our previous article: These 8 Oregon Hiking Trails Lead To Some Incredible Pieces Of History.
OnlyInYourState may earn compensation through affiliate links in this article.
Address: 333 W 4th St, Fossil, OR 97830, USA
Fossil Park In Oregon
May 06, 2020
Did dinosaurs live in Oregon?
As you can see from this park with fossils in Oregon, most of the remnants of the prehistoric found in this state are plants or small fish. The state was covered by a shallow ocean during the days of the dinosaurs, so you wouldn't find things like a T-rex here, but there were some pretty incredible aquatic creatures that existed here. One of the most complete prehistoric animals recorded and found in Oregon was the Aetiocetus, which was an early whale from 25 million years ago. It is likely that mosasaurs and plesiosauruses were also around this area, though fossils are scarce.
What types of fossils can I find in Oregon?
After you've found out where to dig up fossils in Oregon, you might be wondering what you could possibly discover. As mentioned, you likely won't find big dinosaur teeth or bones, but fossils with imprints of prehistoric plants or simple vertebrates. These plant fossils are eye-catching and beautiful parts of history. Plus, they would make great natural decorations for the home or things to study. The plant imprints were made millions upon millions of years ago, and it's fascinating to think they made a mark that can be seen by us all this time later.
What is the best park for kids in Oregon?
Digging up fossils is a fantastic activity to do with kids, but it's not the only opportunity for some family fun in Oregon. If you'd like to bring the family to a fantastic natural area to explore Oregon's wilderness, the Tillamook Forest Center is a great option. This park has many trails going through gorgeous scenery with the chance to see wildlife. They have the region's largest outdoor classroom facility for learning, programs, and plenty of other things for kids and adults alike. Plus, you can't beat a $5 admission fee and the programs being free.