The Creepiest Hike In Oregon Takes You Through The Ruins Of An Abandoned Bunker And Ghost Ship
While we're all for lacing up our boots and hitting the trails, there are some hikes here in the Beaver State that aren't for the faint of heart. We're not talking about advanced-level treks; we're talking about creepy hikes — excursions that lead through ghost towns and abandoned places in Oregon. Trails like the Fort Stevens, Jetty Loop, and Fort Steven Ridge Trail. This nine-mile loop trail made up of the other Fort Stevens State Park trails might well lead through one of the most beguiling coastal landscapes in the state, but it's a haunting sort of beauty that will catch you off guard. You see, this trail winds through an abandoned battery park, around earthen forts and mysterious marshland, and even past a real-life ghost ship, making it easily the creepiest hike in Oregon.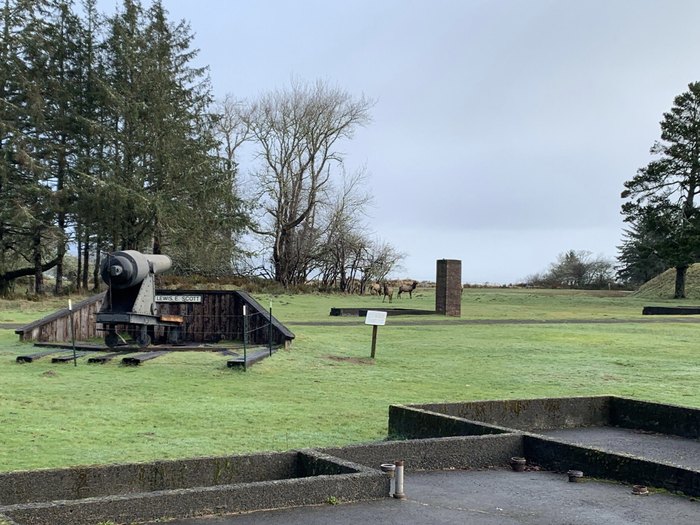 This absolutely jaw-dropping footage shows this amazing Oregon gem in awe-inspiring detail:
Have you hiked the Fort Stevens, Jetty Loop, and Fort Steven Ridge Trail in Oregon before? Did you see the abandoned bunkers on these Fort Stevens State Park trails? Doesn't this take the award as the creepiest hike in Oregon? Are there any others you'd like to nominate for this spooky superlative? Share the tales of your ghost hunting expeditions — we'd love to hear about your experiences!
Fort Stevens campground has been called Oregon's most haunted campsite, and visitors have claimed to hear footsteps near their tents in the night… with no one to be seen. Would you be brave enough to camp here overnight?
OnlyInYourState may earn compensation through affiliate links in this article.
More to Explore
Fort Stevens State Park Trails
What are some other creepy places in Oregon?
There are some truly spine-tingling places in Oregon that will make your imagination run wild. Some of the most notoriously creepy places in Oregon include:
Wildwood Trail and Lower Macleay Trail Loop (AKA The Witch's Castle) - Portland, Oregon. This 3.2-mile trail is located just outside Portland, and is a straightforward trek all can enjoy -- provided you aren't spooked by ghost stories! The trail is located in the Macleay Park, part of Portland's beautiful Forest Park. This lovely little preserve offers a variety of trails for hiking, biking, and horseback riding... as well as a real-life witch's castle! The story behind these Oregon ruins is one of high drama and heartache, and we don't want to spoil it, so you need to learn about it for yourself!
The Shanghai Tunnels in Portland, Oregon. Rose City was one of the most dangerous ports in the U.S. during the early 19th century; this PNW town was the epicenter of an illicit and inhumane maritime practice known as shanghaiing. While originally designed for storage and transportation, the Shanghai Tunnels were also used to traffic -- or "shanghai" -- men from the streets of Portland to work as unpaid laborers on ship crews. The men were drugged and then dragged into the tunnels; many toiled for years before being released, and some perished deep in this underworld. This is a very dark and violent time in Oregon's history, so it should come as no surprise that these tunnels are now said to be haunted by the aggrieved spirits of the captives who died in the dark recesses beneath the city.
Related Articles
Explore Oregon
Featured Addresses

Fort Stevens State Park, 1675 Peter Iredale Rd, Hammond, OR 97121, USA