Here Are The Best Times And Places To View Fall Foliage In Oregon
Believe it or not, fall is right around the corner in Oregon. This means that pretty soon our forests and river valleys will burst into a riot of vibrant reds, oranges, and golds. There are few things more magical than Oregon's annual autumn transformation. If you're wondering what this year's fall foliage map for Oregon looks like this year, check out these predictions from Smoky Mountains.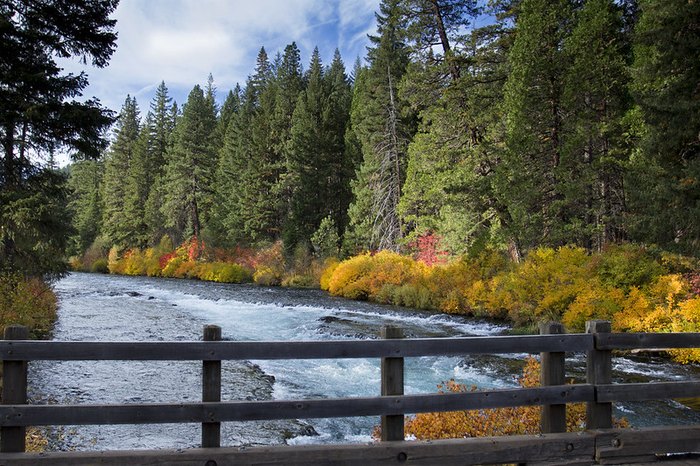 As for the rest of Oregon, you can check out fall foliage at your nearest state park. Are you looking forward to the fall season in Oregon? We'd love to hear your thoughts and plans. Looking for some autumn inspiration? Be sure to check out this amazing fall foliage road trip in Oregon we put together. Happy fall, friends!
Fall Foliage Map for Oregon
September 16, 2022
What's the best place to enjoy fall foliage in Oregon?
After reviewing the above fall foliage map for Oregon, you're probably ready to start planning some autumn adventures. In terms of the best fall foliage in Oregon, there's nowhere more beautiful than the Columbia River Gorge and Hood River Valley. The former is, of course, a waterfall wonderland, and seeing stunning falls like Multnomah, Wahclella, Ponytail Falls, and Bridal Veil Falls surrounded by fall foliage is nothing short of magical.
Of course, the Hood River Valley is a lush, fertile region that's one of the most beautiful in the PNW; in the fall, this area positively shines. The rolling hills of Oregon Wine Country and the Hood River Fruit Loop, juxtaposed with the snow-capped and sublime Mount Hood, create a scene that you'll want to pull over to really enjoy. Our advice? Climb aboard the Mount Hood Railroad for a scenic ride that lets you sit back and soak up the views.
What are some of the best fall hikes in Oregon?
Oregon is a place best experienced outside on the trails, and there are some hikes across the state that truly shine in the fall months. Some of our favorite fall hikes in Oregon include the Sweet Creek Trail in Mapleton, the Little Blitzen Gorge in the Steens Mountains, the Trillium Lake Loop Hike in Government Camp, the Wildwood Trail in Portland, the Spencer Butte Trail in Eugene, and the Abiqua Falls Trail in Scotts Mills. Of course, the views from Rowena Crest are positively sublime in the fall, and there are some beautiful hikes in this area that put you right in the middle of this fall foliage wonderland.