You Won't Want To Miss These Incredible Fireworks Shows In Oklahoma This Year
It's that time of year again! Independence Day is rolling up quickly, and with that comes festivals and celebrations all over the state that you definitely won't want to miss. You might be thinking, "Just where are the fireworks near me this year?" and we have the answers! This year, our shows are going to be bigger and better than both 2015 and 2016's stellar shows. All of these shows will be on the night of the 4th, unless otherwise stated.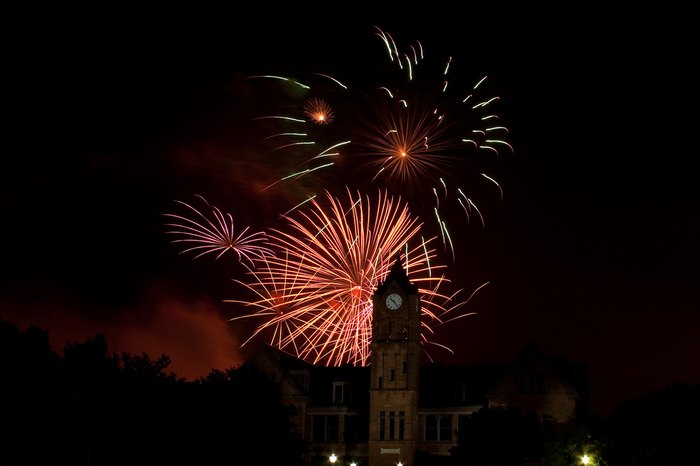 Following these five major shows, there's plenty of other local shows across Oklahoma that are sure to blow last year's shows out of the water! If you're looking for local shows, consider this your best bet at finding the perfect fit for your Independence Day plans!
Alfalfa County
Family Fourth of July at Alfalfa County Fairgrounds in Cherokee where there's free ice cream, a pet dressing competition, and sack races before the show.
July 05 5th of July Fireworks at the City Park in Carmen where there's a 5 pm cookout and live entertainment before the fireworks.
Beckham County
Fireworks at Ackley Park in Elk City
Blaine County
July 01 Canton 4th of July at Canton Lake where you can get hot dogs, homemade ice cream, and ice cold drinks to fill you up and keep you cool until the show at the end of the day.
Canadian County
Freedom Festival at 1st & Monroe NW in Piedmont where the fun starts at 5 pm with food trucks and the Tuttle Tiger Safari animals, ending with a bang and a flash!
Carter County
Fireworks at Lake Murray State Park's RC Flying Field Area in Ardmore
Coal County
Coalgate Independence Day Fireworks at Main Street & the Community Park in Coalgate where you can play bingo or just listen to the local music as you wait for the grand finale show.
Comanche County
July 01 Freedom Festival at Elmer Thomas Park in Lawton
July 02 Rockin' the Park in Downtown Medicine Park where you'll hear 9 great bands play some rock 'n' roll before you close your night with explosions in the sky.
Creek County
Fireworks at the Town Park in Slick
Old-Fashioned Fourth of July Celebration at Whitlock Park in Drumright where you can enjoy an old-timey ice cream social and take your time as you find the best spot to view the fireworks.
July 01 Patriotism in the Park at Klingensmith Park in Bristow
Fireworks over the Municipal Golf Course in Sapulpa. It's advised to park in the Walmart lot, or in the field behind it.
Delaware County
July 03 Independence Day Celebration at Wolf Creek Park in Grove
July 03 Duck Creek Fireworks at Grand Lake where you can enjoy a show that's synchronized to music.
Fireworks Display at J.B. Earp Stadium in Jay where you can enjoy the show to the sounds of bluegrass and gospel music.
Garvin County
Fireworks Extravaganza at Wacker Park in Pauls Valley where you can enjoy a talent show and live music before the real fun begins at dusk!
Grady County
July 03 Fireworks Spectacular at Saltcreek Casino pond in Pocasett includes food trucks, bounce houses, face painting, and giveaways.
Greer County
Fireworks at the City Park in Granite
Harper County
July 03 Laverne 4th of July at the City Park in Laverne where you can enjoy a parade, free barbecue, and kid's races before the final event.
Jackson County
July 02 American Spirit Festival at Falcon Rd in Altus
Kay County
Old-Fashioned Independence Day at the Fairgrounds in Blackwell where you can enjoy a free public swim before you enjoy the sky show.
Fourth of July at Blinn Park in Tonkawa where there's a lively parade and a labrynth to keep you occupied during the time before the closing event.
Kingfisher County
America Fest at Kingfisher County Fairgrounds in Kingfisher where you can start your day off with turtle races, sack races, and a concessions visit before you hunker down to watch the sky light up.
Le Flore County
Celebrate America at 501 S Broadway St in Poteau where you can watch the show along to some patriotic music.
Lincoln County
June 23 Hog Wild BBQ Festival at 1113 Joe Long Dr in Chandler
Logan County
July 01 Red Brick Nights in Guthrie
Major County
July 03 Fairview's Festival Fireworks at the Major County Historical Society in Fairview where you'll enjoy delicious fair foods and live music! Plus,there's kids' activities as well.
Mayes County
July 01 Grand Lake Fireworks on hwy 28 in Disney
McClain County
July 01 Independence celebration at Hwy 62 & NE 10th St in Blanchard where there's an adorable petting zoo, pony rides, and inflatable obstacles for the kids to enjoy before the show you're all waiting for!
McIntosh County
July 03 4th of July Fireworks at Eufaula Cove in Eufaula
Murray County
July 01 Summerfest at Wolf Field in Davis where there'll be local live music and family friendly activities before the main event of the night.
Nowata County
Fireworks at Jack Gordon Park in Nowata
Oklahoma County
Freedom Festival at Eldon Lyon Park in Bethany where you and 20,000 other people can annually enjoy the festivities from a morning parade to the fireworks at dusk.
June 24 Stars and Stripes River Festival at the Boathouse District in OKC has fun family activities and live music to entertain yourself until the real reason you came here starts! Fireworks!
Bricktown 4th Fest in Lower Bricktown, OKC
Ottawa County
July 03 Duck Creek Fireworks at Grand Lake in Afton where you can enjoy a show that's synchronized to music.
Fireworks at Riverview Park in Miami which includes live music beginning at 5 pm and a great concession stand.
July 03 Quapaw Tribal Powwow at 5681 S 630 Rd in Quapaw where you can learn about the rich history of this tribe, and enjoy Native traditions as well as
Pawnee County
Fireworks on the Square at the Courthouse Square in Pawnee
Payne County
Fireworks at the Memorial Park in Cushing
Boomer Blast at Boomer Lake Park in Stillwater has free inflatables for the kids, and delicious food trucks where you can fill up before the big fiery show.
Pittsburg County
Stars & Stripes Celebration at the Southeast Expo Center in McAlester where family fun can be had by all, and you can make a day of waiting for the fireworks to happen.
Pottawatomie County
July 01 FireLake Casino Fireworks in Shawnee
Pushmataha County
July 03 Boom in the Valley at Choctaw Nation Capitol Grounds in Tuskahoma where there's no alcohol permitted, but all the fun is in the food and fireworks anyways!
Roger County
4th of July Celebration at Claremore Lake Park in Claremore is a hubbub of family fun where live music and kids activities keep you busy before the show at dusk!
Seminole County
Fireworks at the Municipal Park in Seminole
July 02 Lake Festival at the lake in Wewoka is three days long, with camping, food vendors, and a cardboard boat parade before the closing event — the fireworks show.
Sequoyah County
Fireworks Extravaganza at Lake Tenkiller in Gore
June 24 Marble City Mayhem in Downtown Marble City which includes free ice cream and other great activities for the kids before the show.
Fireworks at Sallisaw High School in Sallisaw
Stephens County
Old-Fashioned Independence Day at Redbud Park in Marlow, one of the largest in Southern Oklahoma.
Texas County
Fireworks at the Main St. Park in Texhoma where there's plenty of places for the kids to bounce around as you scout for that perfect fireworks viewing spot for the family.
Tulsa County
Boomfest at RiverWalk Crossing in Jenks where you can enjoy live entertainment all day as you await the show at night.
July 03 Fantasy in the Sky at the Municipal Airport in Skiatook
Wagoner County
June 30 Freedom Celebration at 7673 East 121st St S in Bixby
July 02 Rockets over Rhema at Rhema Bible Church in Broken Arrow where thousands of people gather yearly to celebrate and enjoy plenty of family fun before the dazzling fireworks show.
June 24 Patriotic Festival West of Coweta High School Stadium in Coweta
Washington County
Freedom Fest at Downtown Bartlesville where you can watch the lip-synching talent show and a patriotic program for our veterans. Then, the real fun begins at 9:45 pm!
Woods County
Hometown Independence Day at 1565 Main St in Waynoka
Woodward County
Home of the Brave Fest at Crystal Beach Park in Woodward where there's a watermelon eating contest, live music, and a Little Miss Firecracker pageant to get you ready for the nighttime festivities.
Where will you be celebrating your Fourth of July this year? Are there any other shows in Oklahoma that you're attending that aren't on this list?
OnlyInYourState may earn compensation through affiliate links in this article.