Everyone In Oklahoma Must Visit This Epic Natural Spring As Soon As Possible
Chickasaw National Recreation Area has been described as an "oasis in the Oklahoma prairie." It is situated in the foothills of the Arbuckle Mountains in south-central Oklahoma near Sulphur. It is full of natural springs and mineral springs that attract visitors from all over the country. This epic natural spring in Oklahoma is a nature lover's dream come true, and once you see the pictures, you'll probably agree. Let's take a look at some of the hot springs in Oklahoma.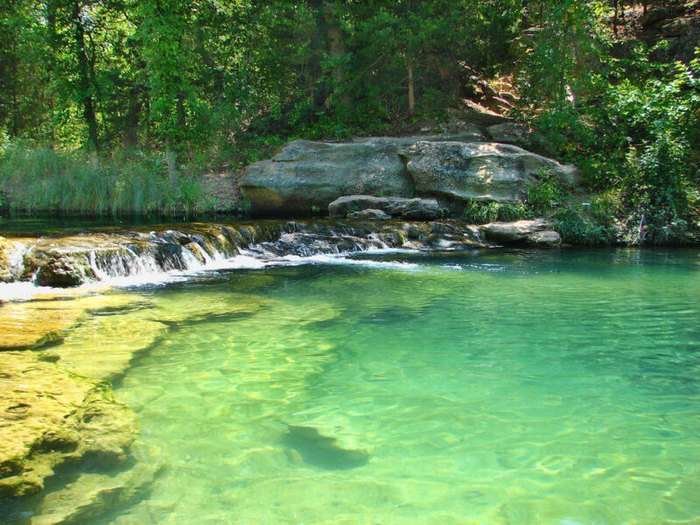 As one of the best hot springs in Oklahoma Travertine Creek is really something special. Do you hope to check out this epic natural spring in Oklahoma any time soon? We sure do! Have you ever been to Chickasaw National Recreation Area? If so, what part of the park is your favorite? Tell us your opinions in the comments!
For information on all of the hiking trails in the area, be sure to check out AllTrails+.
OnlyInYourState may earn compensation through affiliate links in this article. As an Amazon Associate, we earn from qualifying purchases.
More to Explore
Epic Natural Spring in Oklahoma
What are some amazing waterfalls in Oklahoma?
Some of the most amazing waterfalls in Oklahoma include:
Buffalo and Antelope Springs
Beavers' Bend Waterfall
The Sooner State is home to tons of rivers, creeks, lakes, and ponds, and with those often comes the majesty of waterfalls. For example, in Sulphur, you'll find Little Niagara which is named for its width more than its height. In the same region, you'll also find Buffalo Springs and Antelope, where you can see two separate waterfalls. In McCurtain County, you'll find amazing cascades like Presbyterian Falls and the Beavers' Bend Waterfall, both of which will awe you. We're not sure what exactly it is about beautiful, clear, cool water tumbling down from a higher point to a lower one, but we are totally about it. Wanna know more? This article covers several of the Sooner State's most awe-inspiring waterfalls. 
Where can I find the best natural gems in Oklahoma?
Some of the best natural gems in Oklahoma include:
Honestly? All over the place! No matter where you turn, you're bound to find something natural to marvel at. Our state is vast, wide open, and absolutely beautiful. Our endless blue skies and rolling green plains seem to go on forever, and truly, Oklahoma is a natural gem all by itself. Some of the more popular natural gems in the state for people to visit, though, include some amazing wonders like Turner Falls, in Davis, which are unlike any other waterfall in the state, and the Great Salt Plains State Park is a strange and interesting little spot that you won't find anywhere else but here. The Gloss Mountains are strange and beautiful and are often called the "glass" mountains instead, on account of their shiny, high-gloss texture. Black Mesa State Park is another interesting gem in Oklahoma that everyone should check out at least once. 
What are the most popular places to go hiking in Oklahoma?
Some of the most popular places to go hiking in Oklahoma include:
Friends Trail Loop
Skyline Trail
Given that Oklahoma is home to more than 350 awesome trails, for all skill levels. You'll find something beautiful no matter what you're looking for! If you take a look at AllTrails.com, the top five most popular hiking trails in Oklahoma include the Elk Mountain Trail, in Charons Garden Wilderness, Friends Trail Loop, at Beavers Bend State Park, the Bison Trail, in the Wichita Mountains, the Skyline Trail, also at Beavers Bend, and Narrows Trail, which, like Bison Trail, is in the Wichitas. Each trail offers something totally unique to itself, and an Okie who also considers themselves a nature connoisseur would be naive to pass up a hike at any of these epic places.
Related Articles
Explore Oklahoma
Featured Addresses

Travertine Creek, Oklahoma 73086, USA