The Creepy Small Town In Oklahoma With Insane Paranormal Activity
Oklahoma is full of haunted places that are filled with exaggerated legendary tales of ghosts and goblins. But there's one town that is pretty much undisputedly haunted and filled with paranormal activity — El Reno — home to Historic Fort Reno, an old military post. The town is so haunted they even offer ghost tours for visitors to get an inside look at the paranormal activity that exists. Here's a look into the dark side of El Reno, an incredibly creepy small town in Oklahoma: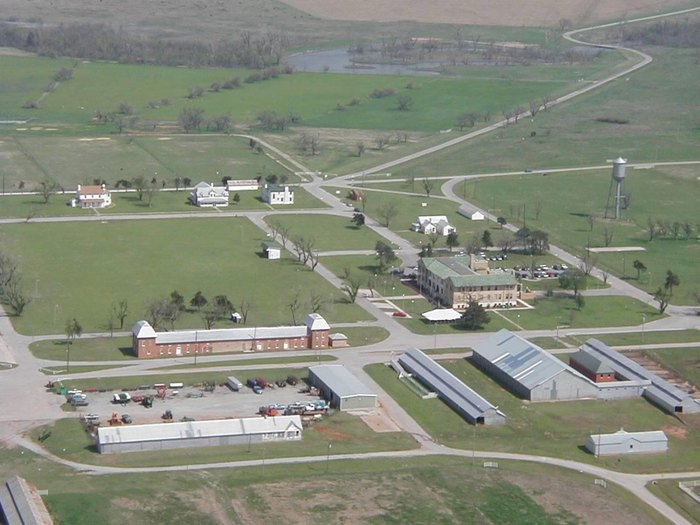 Have you ever taken the ghost tour of Historic Fort Reno? If so, did you experience any paranormal activity? Let us know in the comments below!
Check out these other haunted places in Oklahoma…they are terrifying!
OnlyInYourState may earn compensation through affiliate links in this article.
More to Explore
creepy small town in Oklahoma
What are the creepiest places in Oklahoma?
Oklahoma has a reputation as a hotbed of paranormal activity where ghost hunters find a variety of creepy sites to explore (see the above article about a very creepy small town in Oklahoma). Tulsa is home to many bone-chilling places and the Gilcrease Museum ranks as one of the most haunted. Ghostly figures of children have been seen playing around the grounds and visitors have reported mysterious noises, doors slamming, and cold spots within the museum. A truly bizarre phenomenon is Gravity Hill in Bartlesville. Apparently, if you put your vehicle in neutral at the bottom of the hill, it will roll backward up the hill, defying the laws of gravity. In Guthrie, the Stone Lion Inn is a beloved destination for thrill-seekers to take part in their exciting murder-mystery weekends. Once operating as a funeral home, it's no surprise that guests have seen specters roaming the halls and heard mysterious noises echoing in the halls.
Can I visit any abandoned places in Oklahoma?
If you love trekking through the mysterious isolation of abandoned places, The Sooner State will keep you busy with hair-raising destinations to explore. The crumbling, futuristic architecture of the Abundant Life Building in Tulsa has a truly eerie vibe. This now empty windowless concrete cube was once home base for televangelist Oral Roberts and his massive worldwide enterprise. Traveling east of Arcadia on the old Route 66 are the remnants of a stone building from the early 1900s. This long-abandoned filling station is rumored to have been the home to a counterfeiter during the Great Depression. Hidden in Edmond is the mysterious site of Gandini's Circus where old circus remnants have been abandoned to be reclaimed by nature.
Are there any ghost towns in Oklahoma?
Exploring the empty landscape of a once-thriving town is a one-of-a-kind adventure that begs so many questions of the past. Desolate, forgotten destinations are hidden all across Oklahoma that will ignite the imagination of any visitor. The town of Foss located just outside of Clinton was settled back in the 1890s. In 1902 the region was slammed by a massive flash flood, demolishing the town and drowning several residents. The tiny town of Kenton in Oklahoma's panhandle dates back to the late 19th century and today claims under 20 residents. Though much of the region took a dramatic economic hit during the Great Depression, this area suffered significantly, driving most people to find work elsewhere and by 1942, it became known as a "No Man's Land".
Related Articles
Featured Addresses