The Oklahoma Christmas Lights Display That's Been Named Among The Most Beautiful In The World
It's hard to believe Oklahoma is home to one of the best Christmas light displays in the nation and one of the most beautiful in the world – but it's true! The Chickasha Festival of Light has won numerous awards over the past 25+ years and every year it gets better and better. Plan a trip to this nationally-recognized Christmas display that's sure to get you in the holiday spirit. If you're hunting for the best spots to see Christmas lights in Oklahoma this year, this one is one of the VERY best.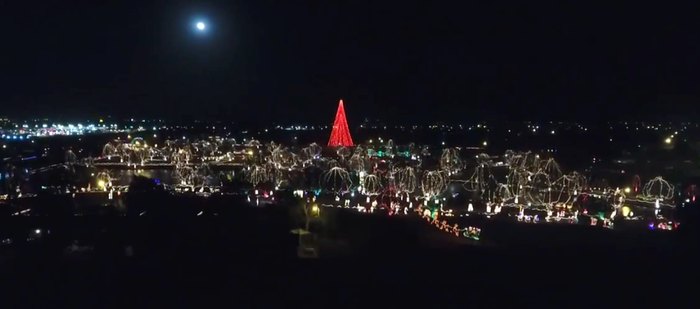 Have you ever visited The Chickasha Festival of Light, and if so, would you recommend it to our readers? What other spots do you think have the best Christmas lights in Oklahoma? For more information, including hours and pricing, visit the event's website.
Another great place to view Christmas lights is Rhema in Broken Arrow, Oklahoma. Visitors to the campus of Rhema Bible Church will be mesmerized by more than two million lights, 100,000 twinkling bulbs synchronized to Christmas music, horse-drawn carriage rides, hot cocoa, and funnel cakes.
Address: Shannon Springs Park, 2400 S 9th St, Chickasha, OK 73018, USA
OnlyInYourState may earn compensation through affiliate links in this article.
Christmas Lights in Oklahoma
November 17, 2021
What is winter in Oklahoma like?  
Winters in northern Oklahoma are cold and snowy, and winters in southern Oklahoma can be pretty mild. It's a state that definitely experiences all four seasons, and winters can be icy and snowy. The low temperatures during the coldest months don't tend to be below 10 degrees. Oklahoma gets anywhere from just two inches of snow in the warmest parts to the east and up to 30 inches in the panhandle. Ice storms occur occasionally and tend to be much more difficult than snowstorms. The lowest recorded temperature ever measured in Oklahoma was in Watts in 1930; temperatures plunged to a beyond-frigid –27 degrees Fahrenheit. Well, it was the lowest ever recorded, until February of 2021 brought a frigid –31 degrees in Nowata. To avoid both most of tornado season and the worst of winter, the best time to visit the Sooner State is sometime between June and November.  
What can I do with kids during the holidays in Oklahoma?  
Oklahoma is one of those states that takes its holidays very seriously! There's no shortage of fun stuff to do with the family, no matter what part of the state you're from. Of course, you'll find more to do in the big cities than in the rural areas, but don't let that worry you if you prefer to stay away from crowds. In mid-November, you can take the little ones to Claremore for an early taste of the Christmas spirit at Dickens on the Boulevard. It's a unique experience you won't find anywhere else, and we don't want to spoil it for you, so we won't say more. There's also Oklahoma City's Downtown in December festivities, where the Bricktown district is transformed into a winter wonderland, and in Tulsa, they have Winterfest, which is a blast as well. You can also take them ice skating in various parts of the state, and it's always fun to pick out Christmas trees! You might want to check out this Oklahoma Christmas lights road trip for some more ideas as well.  
Address: Shannon Springs Park, 2400 S 9th St, Chickasha, OK 73018, USA
OnlyInYourState may earn compensation through affiliate links in this article.