10 Of The Best Cabins In Oklahoma That Will Give You An Unforgettable Stay
Snuggling up and sitting around the fireplace in a cozy cabin sounds so relaxing, doesn't it? You can find rustic, luxurious, or quaint and simple rentals at these cabins in Oklahoma.  Here are 10 of the best cabins in Oklahoma for a family getaway or a romantic weekend. By the time you reach the end we think you'll be ready to pack your bags – we know we are!
Affordable Cabins in Oklahoma
Oklahoma is such a nice place for a cabin getaway, but you don't have to drop your entire vacation budget on your rental. These two lovely cabin rentals are just perfect without having to spend a fortune.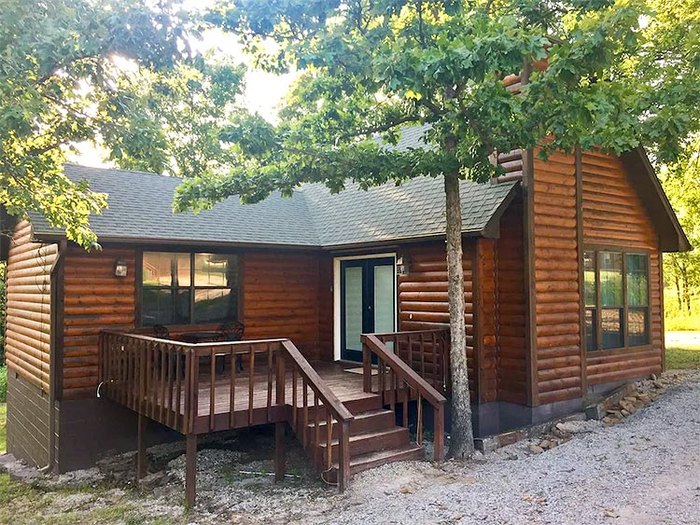 Luxury Cabins in Oklahoma
Rustic cabins are nice, but sometimes you just want to be treated to a little luxury. These stunning Oklahoma cabins will treat you right in some of the most beautiful areas of the Sooner State.
Romantic Cabins in Oklahoma
What could be more romantic than mountain views, towering pine trees, a roaring fire, and a hot tub? Or how about a floating cabin on the lake as you grill up some freshly caught trout? If you are looking to rekindle some romance, these are some of the best cabin rentals in Oklahoma to do just that.
Secluded Cabins in Oklahoma
If you are looking to get away from the noise and stress of Oklahoma City or Tulsa, these two vacation rentals will do the trick. McCurtain County is a beautiful area with some of the best vacation rentals in Oklahoma. They are also pretty affordable compared to many of the luxury cabins in the area.
Cabins in Oklahoma with Hot Tub
After a day of hiking in the mountains, boating on the lake, or shopping in a charming nearby town, it feels pretty darn good to grab some drinks and sit in a relaxing hot tub as the sun sets. These two rentals just happen to have hot tubs – what a coincidence.
Whether you love to explore the outdoors with mountain views, trout fishing in the Mountain Fork River, or hiking in Oklahoma's many state parks, a cabin getaway is one of the best ways to do that. There is something truly magical about staying in a tiny house or cabin surrounded by nature. These featured rentals are some of the best cabins in Oklahoma we could find. There are so many more. Where have you stayed in Oklahoma that you'd like to share?
Here they are again. Book one of these 10 best cabins for rent in Oklahoma:
Best Cabins In Oklahoma
8. Burnt Whiskey
9. Pine Lodge Resort
OnlyInYourState may earn compensation through affiliate links in this article.
Even more wonderful cabins in Oklahoma
December 28, 2022
Where can I find secluded cabins in Oklahoma?
Whether it's a cabin in the foothills of the Kiamichi Mountains or a ranch in Kenton there are some wonderful natural areas in Oklahoma just waiting to be explored. Here are a few secluded cabins in Oklahoma:
1. Hoot Owl Guest Ranch, Kenton, OK
2. The Cliffhouse, Broken Bow, OK
3. Coyote Moon at Hidden Hills Hideaways, Foster, OK
4. Mesa Valley Guesthouse, Kenton, OK
5. Roadrunner Hideaway at Shiloh Inn, Ardmore, OK
6. Kiamichi Mountain Villa, Smithville, OK
Read more about these rustic cabins in Oklahoma, and then start planning that vacation getaway.
How much do cabin rentals cost in Oklahoma?
Oklahoma has a nice mix of cabin rentals available at every price range. From ultra-affordable rustic cabins to high-end luxury rentals in the popular Broken Bow area. Here is a quick list of cabin rental properties under $150 a night. And for something really luxurious here is a list of cabins above $600 a night – there are still over 300 properties which tells you a little something about the number of high-end rentals available if you like to splurge.
Are there pet-friendly cabin rentals in Oklahoma?
Why yes, there are quite a few pet-friendly cabin rentals in Oklahoma. So many in fact, that we can't even begin to list them all. That's a good thing for your furry friends because they sure would like to tag along on that family vacation. Here are a few nice cabin rentals that allow pets:
1. Treehouse for Two (and a dog)
2. Secluded Eclectic Cabin
3. Medicine Park Cabin
4. Mountain Hidaway
5. Little Wildflower
OnlyInYourState may earn compensation through affiliate links in this article.