Follow This Abandoned Railroad Trail For One Of The Most Unique Hikes In Oklahoma
Here in the Sooner State, we have a variety of hiking trails to choose from. From mountains and lakes to state parks and rivers, there are hikes in every setting imaginable. One hiking trail in Oklahoma we enjoy and think you might too is the Cleveland MKT Trail. It takes you on an abandoned railroad, alongside a lake, and you can make it as long or as short as you'd like. Check out our pick for one of the best hikes in Oklahoma ASAP: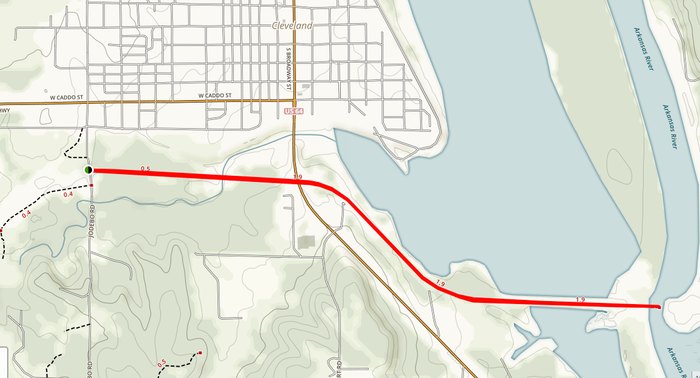 For the most up-to-date information about the trail, closures, or seasonal info, contact Cleveland Parks & Rec at (918) 358-3506 or visit the link.
If you enjoy hiking, make sure you check out these other easy hikes in Oklahoma we can't get enough of.
Address: 201 N Broadway St, Cleveland, OK 74020, USA
Best Hikes in Oklahoma
July 31, 2022
What are some of the most delightful kid-friendly hikes around Oklahoma?  
Well, luckily for those of us who enjoy hikes with our kids, Oklahoma isn't an outrageously mountainous or geologically complex state, so a lot of the hikes around Oklahoma could easily be considered kid-friendly. Some of our favorite kid-friendly hikes in Oklahoma, which we'll define as hiking trails that are rated as "easy" and are under two miles long, include little gems like the Tree Trail at Beavers Bend State Park. It's a simple, 1.2-mile hike that takes adventurers past a Native American sculpture and more. Another kid-friendly hiking trail in Oklahoma we love is the 1.6-mile Martin Nature Park hike, at Martin Park in Nichols Hills.  
Where are the best scenic hikes in Oklahoma?  
That being said, which hiking trails in Oklahoma make for the best scenic hikes in Oklahoma? In a word: lots. Some of the best scenic hikes in Oklahoma that we can't get enough of include the amazing Cathedral Mountain Trail, at Gloss Mountain State Park. This is one of the very few geologically interesting hikes in Oklahoma there are; the landscape is incredibly unique, beautiful, and not like anything you'll see anywhere else in the Sooner State. Or, head to Robbers Cave State Park (the state parks in Oklahoma are really wonderful when it comes to scenic trails) and do the Mountain Trail, which leads to some gorgeous natural bluffs.  
What are the most popular easy hikes in Oklahoma?  
Did you know there are more than 450 amazing hiking trails in Oklahoma to choose from? That's right – and of those hiking trails, many of them are rated as "easy" (though some of the easy hikes are quite lengthy). The Wichita Mountains Forty-Foot Hole hike is one you'll never forget; it's short, at just 1.4 miles in length, and it leads to one of the most amazing waterfalls in Oklahoma. If you like your hikes a little longer, do the easy but lengthy 12.6- mile Arcadia Lake Trail, which is at Central State Park and simply stunning. You'll see why it's so beloved by the local pretty quickly!  
Address: 201 N Broadway St, Cleveland, OK 74020, USA