Follow This Abandoned Railroad Trail For One Of The Most Unique Hikes In Oklahoma
Here in the Sooner State, we have a variety of hiking trails to choose from. From mountains and lakes to state parks and rivers, there are hikes in every setting imaginable. As quite often happens with abandoned railroads in Oklahoma they get converted to hiking and biking trails. One hiking trail in Oklahoma we enjoy and think you might too is the Cleveland MKT Trail. It takes you on an abandoned railroad, alongside a lake, and you can make it as long or as short as you'd like. Check out our pick for one of the best hikes in Oklahoma ASAP: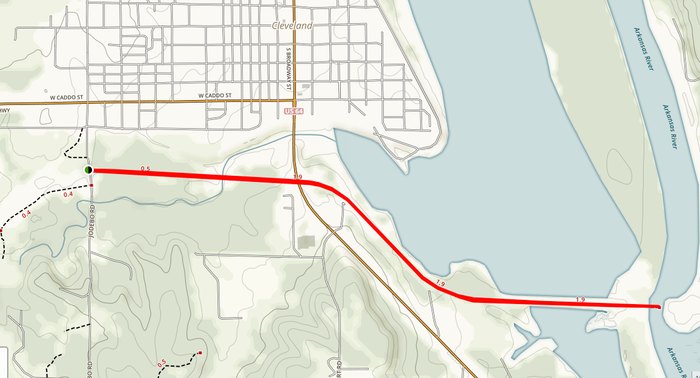 For the most up-to-date information about the trail, closures, or seasonal info, contact Cleveland Parks & Rec at (918) 358-3506 or visit the link.
This Oklahoma rail trail is certainly interesting to explore. There is something about an abandoned set of railroad tracks that is both haunting and inspiring. Have you discovered any other abandoned railroads in Oklahoma that have been converted to hiking trails? If you enjoy hiking, make sure you check out these other easy hikes in Oklahoma we can't get enough of.
OnlyInYourState may earn compensation through affiliate links in this article.
More to Explore
More abandoned places in Oklahoma
Are there any abandoned places in Oklahoma?
Ghost towns, cemeteries, houses, and even missile silos are reclaimed by nature at an increasing rate. These abandoned places stand as historical markers until they fade away completely. Here are a few abandoned places in Oklahoma:
Altus Missile Silo, Altus, OK: From 1962 to 1965 the Altus Air Force Base was home to a very secure facility that contained the SM-65 weapons system, more commonly called the Altus. It was a four-megaton nuclear warhead. The missile silo has been abandoned ever since it shut down in 1965.
Labadie Mansion, Colcord, OK: The Labadie family lived in this old stone mansion from the late 1800s to the early 1900s. It sits north of Bartlesville and has had numerous tragedies befall its occupants in the early 1900s. It is now considered one of the most haunted places in Oklahoma.
The town of Skedee, Oklahoma: Only about 50 residents remain in this old oil drilling town that was once considered to have the wealthiest people in the world per capita. In 1935 the oil boom went bust - the town has never recovered.
Is there a haunted hiking trail in Oklahoma?
There are actually a number of spooky trails in Oklahoma that many believe are definitely haunted. Generally, some tragic event occurred along the trail that leads people to believe the spirits of the wronged remain to torment or seek assistance from current passersby. Here are a few haunted hiking trails in Oklahoma:
Turkey Mountain Hunted Trail: Okay fine, this one is intentionally haunted during Halloween each year. If you love a spooky hike, this is a must-do experience to add to your bucket list.
Related Articles
Explore Oklahoma
Featured Addresses

201 N Broadway St, Cleveland, OK 74020, USA