A 100-Mile Yard Sale Goes Right Through Oklahoma And It's Filled With Treasures
If you love bargain shopping, we found the ultimate yard sale in Oklahoma you won't want to miss out on. Over 13 towns across the Sooner State team up every year in order to create the "Oklahoma 100-Mile Yard Sale Tour." Perhaps the biggest yard sale in Oklahoma, more and more cities and towns join in on the fun each year. The best part about this entire event is that you never know what you might find in each city! Take a look at the towns participating and some important details about this event: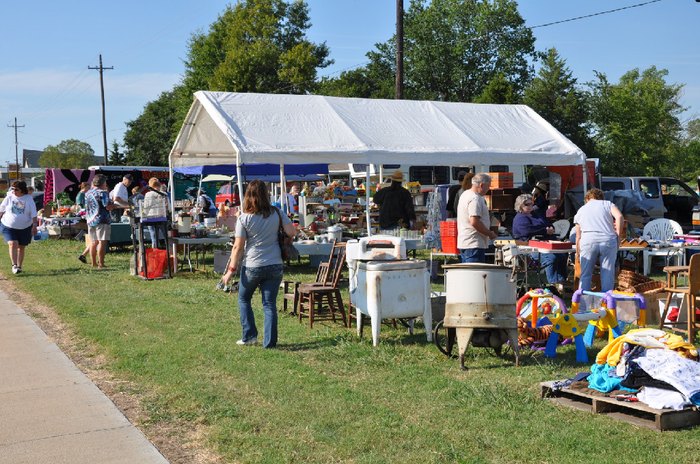 For new updates and more information about this event, please visit the 100-Mile Yard Sale's website. Have you ever been to the 100-Mile Yard Sale in Oklahoma? Share with us your experience in the comments section! Or, for more great bargain shopping in Oklahoma, check out these 10 incredible flea markets.
OnlyInYourState may earn compensation through affiliate links in this article.
Address: Pawnee, OK 74058, USA
Address: Cleveland, OK 74020, USA
Address: Hominy, OK 74035, USA
Address: Sand Springs, OK, USA
Address: Oilton, OK, USA
Address: Cushing, OK 74023, USA
Address: Sapulpa, OK, USA
Address: Mannford, OK, USA
Address: Jennings, OK 74038, USA
Address: Hallett, OK, USA
Address: Terlton, OK 74081, USA
Biggest Yard Sale In Oklahoma
March 15, 2020
Where can I go thrift shopping in Oklahoma?
The 100-Mile Yard Sale in Oklahoma isn't the only place where you can score some serious shopping steals. There are tons of places where you can find second-hand items that are half the price you'd expect to pay. Whether you're shopping for vintage clothing or antique furniture, Oklahoma has quite a few spots to scope out. In fact, here are 10 places to go thrift shopping in Oklahoma that will be a great place for you to start.
Where else can I go bargain hunting in Oklahoma?
Everyone loves a good bargain, right? Well, if you're like us and you love the thrill of a good deal, then you'll be happy to take this trip on your next free weekend. The bargain hunter's road trip in Oklahoma will take you to 9 different thrift stores and second-hand shops for you to find some discounted goods. While the entire trip takes about 5 hours driving time, you might want to break the entire experience up over one solid weekend adventure.
What are the best flea markets in Oklahoma?
Beyond just bargain hunting in Oklahoma and thrift shopping, you'll also want to check out flea markets, too! Flea markets are the perfect place for people to come together and sell a variety of items. From antiques to used furniture, clothing and more, Oklahoma has quite a few markets for you to check out. Even during winter months, you'll find some indoor flea markets to check out. In fact, these 10 amazing flea markets in Oklahoma are a great place to start.