Kirtland Turns Into A Winter Wonderland Each Year In Ohio
Every year during the holiday season, towns all across Ohio string lights, host Christmas parades and find other festive ways to celebrate. One town in particular goes all out both indoors and outdoors with thousands of Christmas lights and a unique nativity collection you won't find anywhere else. The historic village of Kirtland is the best winter town in Ohio, and it offers a truly unforgettable holiday experience that families adore.
Check it out: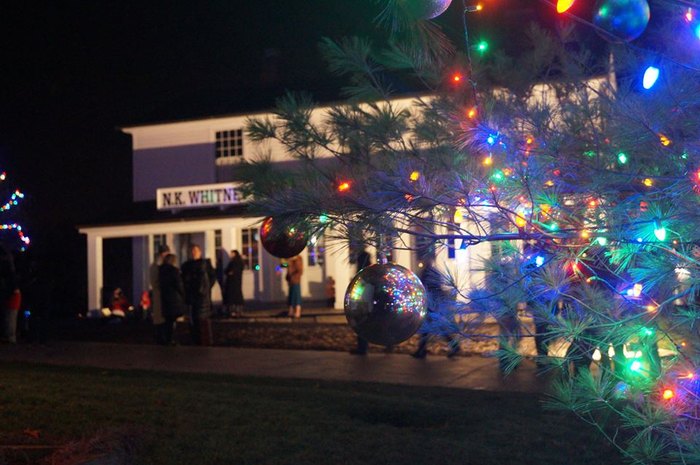 The Historic Kirtland Visitors' Center is located at 7800 Kirtland Chardon Rd., Kirtland, OH 44094. Have you ever been to Kirtland, the best winter town in Ohio, during the holidays before? If so, share your photos and experiences with us in the comments below!
And for even more Christmas towns to explore in Ohio this holiday season, check out our previous article featuring the most magical holiday towns in the state..
OnlyInYourState may earn compensation through affiliate links in this article.
Address: 7800 Kirtland Chardon Rd, Kirtland, OH 44094, USA
Best Winter Town In Ohio
October 11, 2019
What other places are the most festive towns in Ohio?
Once you've arrived in The Buckeye State, you'll know it immediately. The state is full of scenery that's incredible in the winter, from our rolling hills to our waterways. Many of our towns feel like real-life snow globe scenes thanks to darling architecture, festive lights and displays, and good-natured residents. While residences across the state are transformed by lights and displays as the holidays approach, some towns are more magical than others. One of the best places to visit in winter in Ohio is Medina, a gorgeous town that boasts Castle Noel, the state's coolest holiday movie museum. Zoar comes to life around the holidays in a way that's downright magical, but these are just two of the most festive towns in Ohio.
What are the best things to do for Christmas in Ohio?
The holiday season is always a splendid time to visit The Buckeye State! Ohio features a landscape that's worthy of a Hallmark holiday movie – and our residents host annual events that are every bit as festive as a classic movie. Naturally, many people head up to the set of A Christmas Story in Cleveland's Tremont neighborhood. It's a museum now, and it is overflowing with charm. At 'Tis The Season, it's always Christmas – this shop operates all year round but is always a fun stop as the holidays approach. While these attractions are all sorts of fun, you'll enjoy even non-holiday attractions in Ohio – especially if you're visiting them to make memories with your family.
What kinds of activities can I do in winter in Ohio?
It's easy to dream of visiting a winter wonderland town in Ohio as soon as snowfall blankets the local landscape, but some of the most incredible winter attractions exist in the most rural and untamed parts of the state. Some of the most jaw-dropping places in the state exist in our many parks – frozen waterfalls, rolling hills blanketed in glistening snow, and sleepy forests covered in gentle frost are just a few of the natural attractions you will find splendid in the wintertime. Looking for something warm to do? Consider cozying up at a restaurant with a fireplace or relaxing in the local salt cave.