Take A Majestic Winter Hike And Marvel At Two Frozen Waterfalls At Cascade Park In Ohio
Although hiking in the winter can be challenging, the frozen beauty you encounter along the way can be breathtaking. One of our state's most beautiful metro parks in northeast Ohio features a loop trail that takes you to not one, but two, incredible waterfalls. Within Cascade Park close to downtown Elyria, impressive waterfalls flow from both the East Branch and West Branch of the Black River. In the wintertime, the frozen falls at Cascade Park are downright majestic, making this one of the best winter hikes in Ohio. The next time you find yourself in the Elyria area, you'll want to explore this stunning park!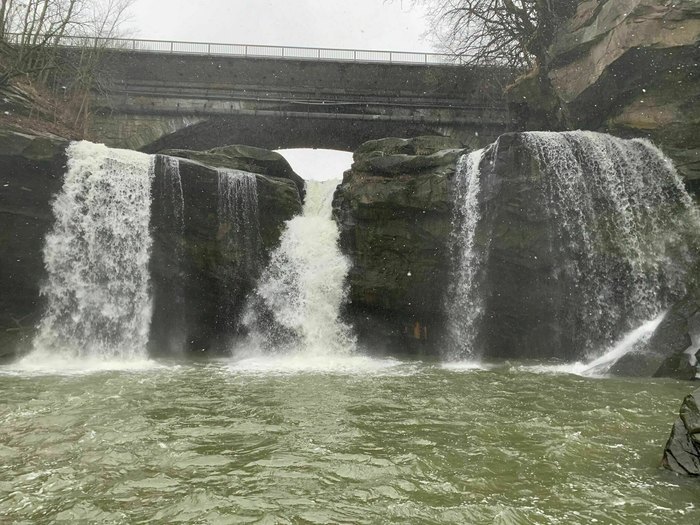 What do you think? Would you hike to these frozen waterfalls? What are your picks for the best winter hikes in Ohio? Share your thoughts in the comments below!
For more wintertime adventures in Ohio, check out our previous article: 6 Winter Hikes In Ohio That Lead To Stunning Frozen Waterfalls.
OnlyInYourState may earn compensation through affiliate links in this article.
Address: Cascade Park, 387 Furnace St, Elyria, OH 44035, USA
Best winter hikes in Ohio
January 11, 2022
What are some of the best winter hikes in Ohio?
There's nothing quite like bundling up and hitting the Ohio trails in the dead of winter. During this time, there's a quiet peacefulness that descends upon the landscape of the Buckeye State, and it's something you really must experience! One of our absolute favorite places to hike during the winter in Ohio is Hocking Hills State Park. While lovely (and a wonderful day trip) all year long, the waterfalls, gorges, and forests of Hocking Hills are positively perfect when covered in a fresh blanket of snow or frost.
Are there any frozen waterfalls in Ohio?
If you're into chasing waterfalls, Ohio is a great place to be. And there's one that transforms into something otherworldly come winter in the Buckeye State. Nestled within Ohio's only national park, Brandywine Falls is a vision. This breathtaking 65-foot waterfall gushes from Brandywine Creek, and the falls are arguably the most popular feature of the park. But what some don't realize, is that in the throes of winter in Ohio, Brandywine Falls transforms into something even more extraordinary. Seeing these frozen falls firsthand is the most amazing reward for hitting the trails in the coldest months of the year; we promise, you'll be so spellbound by this spectacular scene, that you will forget all about the frigid temperatures.
What are some fun state parks to explore in Ohio?
With more than 70 state parks, we've got plenty of beautiful places to explore here in the Buckeye State. From mossy gorges and state forests to hidden waterfalls and stunning lakeshores, there's always something photo-worthy you'll find in an Ohio state park. Here are 11 of our favorite state parks (listed in no particular order) that we think just don't get enough attention, but should!