This 1,000 Foot Traveling Slip N' Slide Is Coming To Ohio… And It's Amazing
You know those humid summer days that have you dragging your feet just to get through the day all while longing for some cold water relief?  Imagine a slip n' slide long enough to fill the streets of your city to satisfy that relief.  Now imagine that slide coming to your city.
It's called Slide The City, and it's a two-way 1,000 ft. long traveling slip n' slide that travels across America and brings people from all over (in and around) the city to line up for the slide of their life.
Although this slide is over three football fields long, it's designed to minimize water usage by circulating its approximately 12,000 -16,000 gallons of water throughout the day. And at the end of the day, the water used in the slide will be treated and then recycled back into the community via local reclamation centers, watering city parks and other uses.
Additionally, a portion of the proceeds from this year's Slide the City tour will go to Generosity.org with the goal of helping the humanitarian organization fund 20 wells in developing countries to provide clean water for approximately 10,000 people.
According to Slide The City's website, the slide is scheduled to come to Columbus, Dayton, Akron, Toledo, Cleveland and Cincinnati this summer. Early registration is $30 and late registration is $40. For exact locations, dates and to register, visit www.slidethecity.com.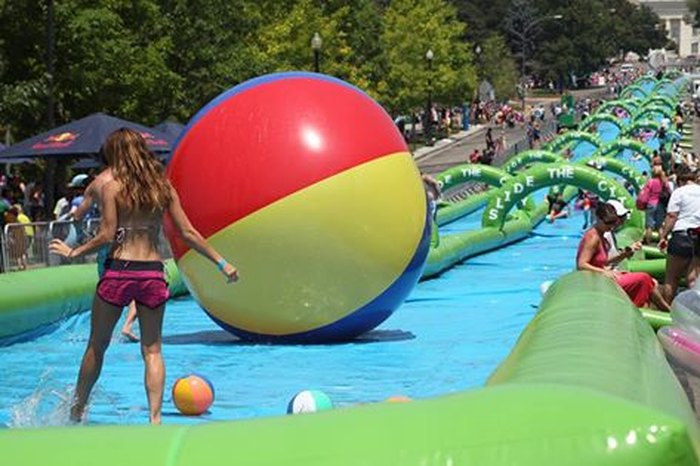 Forget the back yard slip n'slide you once knew. Step up your game and get in line to slide your city this summer.
OnlyInYourState may earn compensation through affiliate links in this article.