This Outdoor Water Playground In Ohio Will Be Your New Favorite Destination
Summertime in Ohio is the best time. (Wouldn't you agree?) All across the state, you'll find little-known swimming spots that are perfect on a hot summer day when your local city pool is too crowded.
When you're looking for something a little more adventurous when it comes to swimming, there's a pretty epic outdoor water playground in North Lawerence, Ohio you should check out—because it's so much more than your average water park. Clay's Park Resort is a one-of-a-kind family fun destination that belongs at the top of your summer bucket list. In fact, it might just be the best outdoor water park in Ohio. Here's why you'll want to visit: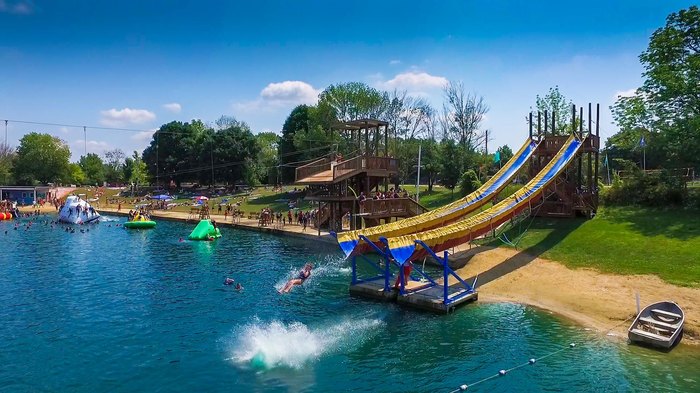 Have you ever been to Clay's Park resort before? If so, we want to know what your experience was like!
For more fun places to swim in Ohio, check out our previous article: 10 Little Known Swimming Spots In Ohio That Will Make Your Summer Awesome.
OnlyInYourState may earn compensation through affiliate links in this article.
Best Outdoor Water Park In Ohio
June 23, 2019
What are the best water parks in Ohio?
Depending on your preferences, there are several water parks, such as Clay's Park Resort in Ohio, that could be considered the best. America's largest indoor water park is located in Ohio. The Africa-themed Kalahari Resort in Sandusky is massive and features rooms you can rent for overnight getaways. Water parks connected to zoos are especially fun for children, such as Zoombezi Bay in Columbus and Monsoon Lagoon Waterpark in Port Clinton. Campgrounds with water parks are also popular options, because you can stay as long as you like. Some popular campgrounds with water parks include Baylor Beach Park in Navarre and Long's Retreat Family Resort in Latham.
When do water parks open in Ohio?
Late spring and the summer season is definitely the best time to go to a water park in Ohio. Most water parks in Ohio are in operation from Memorial Day weekend to Labor Day weekend, but policies vary from water park to water park. Going to a water park at this time of year means you'll get to experience the peak of summer heat, which makes the experience that much more satisfying.
What do I need to bring to a water park in Ohio?
When visiting an Ohio water park, you'll want to be sure to bring your own swimwear, swim gear, sunscreen, sunglasses, beach towels, beach toys, inflatables and possibly beach chairs. Some water parks in Ohio will have beach chairs and inflatables available for guests to use or rent, but many do not. Food and drinks are often not permitted in water parks near Ohio or in Ohio, but concessions are usually available nearby or on-site. Policies about food and drinks will differ from water park to water park, so be sure to inquire before your visit.
OnlyInYourState may earn compensation through affiliate links in this article.