These Waterparks Near Cleveland Are Going To Make Your Summer AWESOME
Cleveland has more than its share of fun and exciting activities. But even with so many fun things to do in Cleveland, a summer without a visit to the waterparks just wouldn't be the same, would it? We've rounded up a list of the best water parks in Cleveland Ohio. Take your pick and then take a plunge!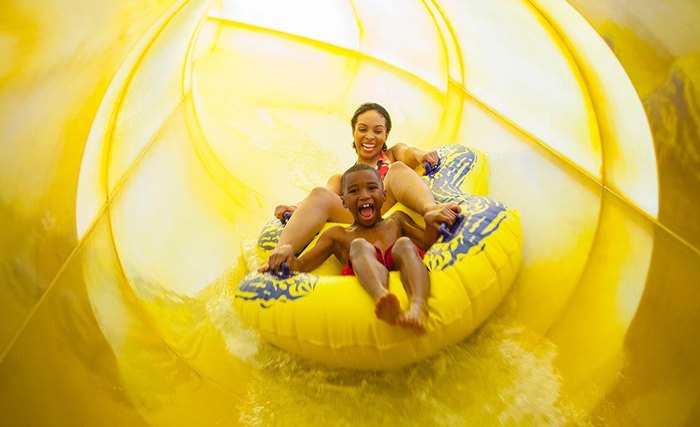 Whether you're searching for a waterpark to quench your thirst for cooling off in the heat of the summer, or you're looking for an indoor park in other seasons, you can't go wrong with these seven waterparks Cleveland.
Want to make the rounds to other waterparks in the Buckeye State? These waterparks in Ohio are guaranteed fun in the sun!
OnlyInYourState may earn compensation through affiliate links in this article.
Water Parks Near Cleveland Ohio
December 13, 2022
What's the best water park in Cleveland, Ohio?
Cedar Point is a 364-acre amusement park in Sandusky, Ohio, that is the second-oldest operating amusement park in the U.S. It's home to 70 rides, including 17 world-class roller coasters, plus the Cedar Point Shores Waterpark, on-site hotel accommodations, and more. It's more than just a destination; it's an experience. It's a beloved destination for roller coaster enthusiasts, thrill-seekers, and families, and its location on the shores of Lake Erie makes it unlike any other amusement park in the country. It's a roller coaster enthusiast's paradise, family-friendly playground, and epic place for adventure. And the high-flying adventures don't just happen *in* this Ohio amusement park; they happen *above* this Ohio amusement park, too!
With North Coast Parasail & Jet Ski, intrepid thrill-seekers have the opportunity to fly over Cedar Point Amusement Park, cruising above the cobalt waters of Lake Erie in an epic Ohio parasailing adventure. Parasailing offers a gentle take-off and landing right from the boat deck. You do not even have to get wet, and no special training is required. You will float high above the Cedar Point beach on 500 feet of towline and enjoy extraordinary views of the Lake Erie coast, the amusement park, and more. In other words, if you're looking to experience the best water park in Cleveland, Ohio, in the most bucket-list-worthy of ways, this is it!