9 Amazing Cleveland Hikes Under 3 Miles You'll Absolutely Love
The rich Ohio landscape offers many views that are unique to our state. Breathtaking sunsets overlook meandering streams that cut and carve our wooded landscape, waterfalls cascade over glacially-constructed rock walls, and our trees are speckled with a variety of foliage that is unrivaled in diversity and color. But did you know that you can easily explore such places in the Greater Cleveland Area? In fact, you can easily enjoy some of the best hiking trails near Cleveland.

Truth is, the area in and around Cleveland is full of ecological wonders, and many can be reached via fairly short hiking trails that can be traversed in mere hours. Here are nine of the best hikes in Cleveland that are also among the best hikes in Ohio.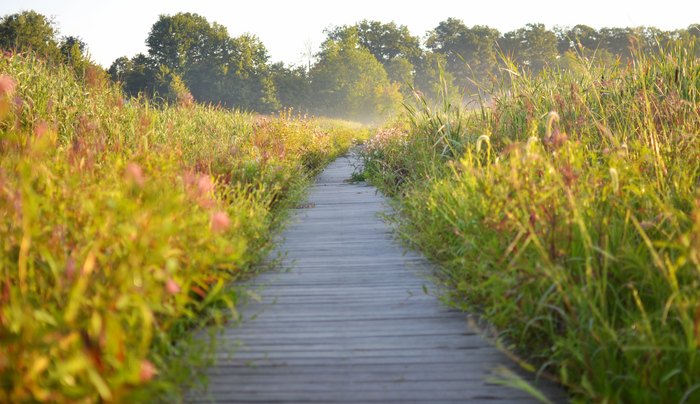 Though Cleveland is widely known for its extensive urban jungle of architecture, its verdant forests and undulating hills make it an ecological gem that nature lovers can easily explore. What is your favorite Cleveland hiking trail? Share your photos and experiences with us!
OnlyInYourState may earn compensation through affiliate links in this article.
More to Explore
Best hikes in Cleveland
Where can I find waterfall hikes in Ohio?
One of the most popular waterfall hikes in Ohio is also the tallest – Brandywine Falls. Located at Cuyahoga Valley National Park, the falls cascade down about 65 feet and offer spectacular scenery around it all year-round, but particularly in the fall when the leaves are changing. The hike to the falls is moderate, spanning about 1.75 miles. But you can also take a series of boardwalks to get to it as well.
Where can I find hiking trails near me in Ohio?
Of course, it depends upon your starting location, but there are so many wonderful trails throughout the state you'll have several from which to choose. The Badlands Trail in the Miami Whitewater Forest is close for those who live in the Cincinnati metropolitan area. If coming from the Columbus area, the Sycamore Plains Trail is popular with hikers of all physical ability levels.
I'm looking for a kid-friendly hike near Cleveland.
One of the most kid-friendly hiking trails in Cleveland is the Stearns Trail at the Shaker Lakes Nature Center. It's only a mile long, meandering throughout the 20-acre property. While here, the kids will have fun tromping through the beautiful gardens and searching for the various birds and other wildlife that call the area home.
What is a good place to visit for a day trip in Ohio?
You might remember the advertising slogan, "With a name like Smuckers, it has to be good." That is in reference to the J.M. Smucker Company Store and Café in the town of Orville. The attraction is popular with folks from all over the state. You'll be absolutely amazed at all the different varieties of jellies and jams created here, as well as the other products that you might not have known were part of the J.M. Smucker Company brand.
Related Articles
Featured Addresses