Chow Down On $2 Tacos During Cincinnati's Tasty Taco Week
Some foods are just worth celebrating, and tacos are one of them. The world has given them their own day of the week with Taco Tuesday, but Cincinnati didn't think that was enough. Cincinnati Taco Week returns this week in the Queen City, which means we can celebrate this handheld favorite meal for seven whole days. Join in the tasty fun and head to a participating eatery this week and fully embrace the deliciousness of Cincinnati Taco Week.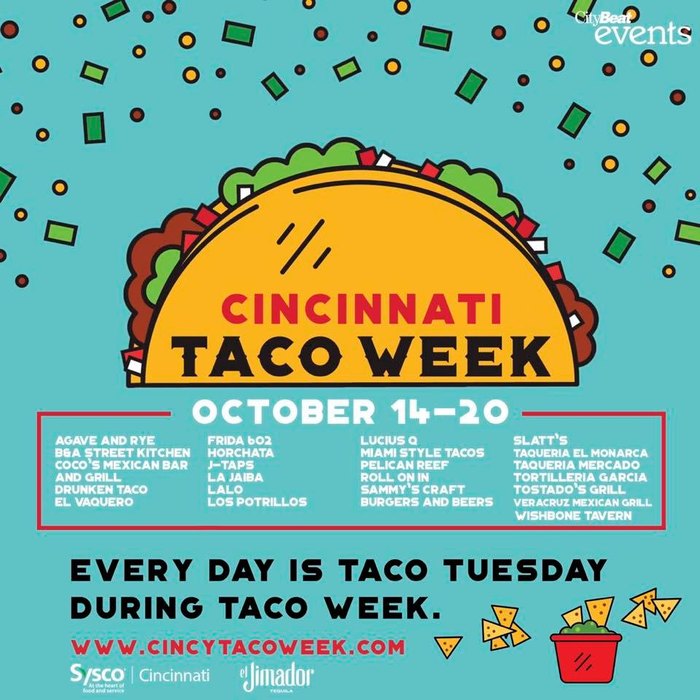 Cincinnati Taco Week is one of the tastiest weeks of the year in the Queen City and you can celebrate with a variety of $2 tacos all week long. Be sure to visit the website, linked below, and print out your passport as you travel around the city. Is this one of your favorite weeks of the year to dine out in Cincinnati? Where do you head for the best tacos in Cincy? Let us know in the comments!
For more information on Cincinnati Taco Week, visit its website here and follow along on Facebook here.
And for more on Tortilleria Garcia as mentioned above, check out our previous article here.
Address: 8439 US-42, Florence, KY 41042, USA
Address: 11774 Springfield Pike, Cincinnati, OH 45246, USA
Address: 200 W McMillan St, Cincinnati, OH 45219, USA
Address: Agave & Rye, 635 Madison Ave, Covington, KY 41011, USA
Address: 709 Main St, Cincinnati, OH 45202, USA
Address: 1131 Broadway St, Cincinnati, OH 45202, USA