Take A Haunted Road Trip To Visit Some Of The Spookiest Places In Cincinnati
If you love ghost stories and haunted tales, then Cincinnati is a great place to be. Our history-filled city is packed with countless stories of creepy happenings, from ghostly apparitions to mysterious sounds heard in the halls of an old building. There are many places throughout the Queen City that are said to be haunted, so if you are looking for a thrill, embark on this spooky road trip that will lead you to the most haunted places in Cincinnati.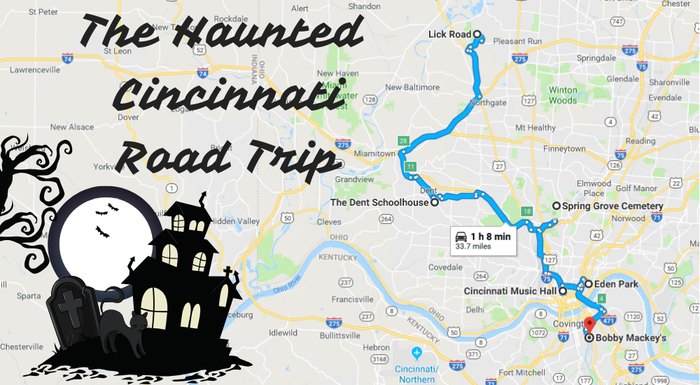 Given that Cincinnati is a such a great town, it's no wonder spirits would want to stick around! What do you think of this scary road trip to the most haunted places in Cincinnati? What other places would you add? Let us know in the comments and tag someone who is brave enough to go on the trip with you.
OnlyInYourState may earn compensation through affiliate links in this article.
More to Explore
Most Haunted Places In Cincinnati
What is the most famous ghost story from Cincinnati?
There are many Cincinnati ghost stories that are told throughout our city. It seems spirits of the past love the Queen City just as much as we do, or perhaps they have unresolved business. One of the most famous ghost stories is that of Imogene Remus, wife of bootlegger George Remus. It is said that the two were about to finalize a not-so-friendly divorce when a car chase ensued and they ended up at the lovely gazebo in Eden Park (that still stands today). It was at this spot that George shot his wife and she later died in the hospital. Imogene had been wearing black to mourn her marriage and there have been many reports of a mysterious woman in black, hanging out in the gazebo today. Have you seen the spirit of Imogene?
What is the most haunted town in Cincinnati?
Some of the most haunted places in Cincinnati can be found in the Over-the-Rhine neighborhood. This historic area of our city has had so much happen above ground, but almost as much happen beneath the streets. The tunnels under the streets of OTR, once used in the brewery business, are said to be haunted. Washington Park and Music Hall, also in Over-the-Rhine, come with their fair share of ghost stories. The land was once an orphanage and also a burial site, thus making it a popular stop on any ghost tour around Cincinnati.
What is the creepiest abandoned place in Cincinnati?
Known as the Ghost Ship, the ruins of the USS Sachem are one of the creepiest abandoned places in Cincinnati. Once a fine ship used in war, as a cruise liner, and even in a Madonna music video, it now sits in a tributary of the Ohio River, just across from Cincinnati. You can read more about this fascinating abandoned place here.
Related Articles