Only The Brave Should Board The World's Most Haunted Boat, Docked Right Here In Cincinnati
Fall is the season of pumpkins, apple cider, and hayrides, but it's also the time of year when the brave head to the many haunted houses throughout the city. We have some truly frightening ones in Cincinnati, but one is frequently named the scariest and may just be the most iconic. The USS Nightmare will soon open again in Newport and only the brave should board the world's most haunted boat that's docked right across the river from Cincinnati.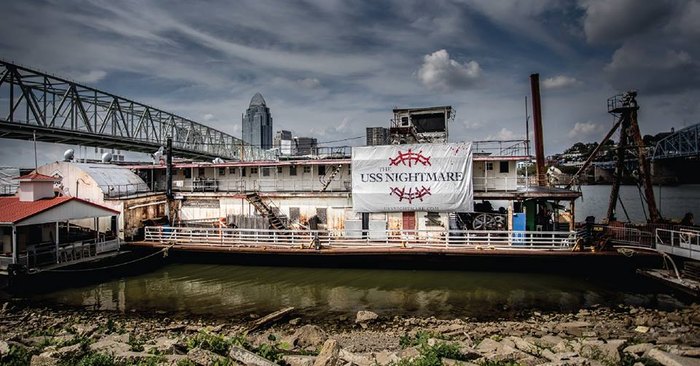 For more on this haunted boat and the story behind it, check out this video:
The USS Nightmare in Cincinnati is a haunted Halloween tradition for many Cincinnatiians, and with a story like this one, it's no wonder why it's so incredibly creepy. Do you visit this haunted boat on the river each year? Did you know the story behind it? And what other haunted Cincinnati attractions are you excited to visit this year? Let us know in the comments!
If you are "dying" to take this haunted boat ride, the USS Nightmare is located at 101 Riverboat Row, Newport, KY, 41071. For more information and detailed ticket prices, visit the official USS Nightmare website.
And for another destination near Cincinnati that's creepy but not quite as scary, check out the creepiest museum in Cincinnati, Ohio. Or, take one of the many guided ghost tours in Cincinnati that are bound to give you the chills.
OnlyInYourState may earn compensation through affiliate links in this article.
More to Explore
USS Nightmare
What are some other haunted places near Cincinnati?
The Buckeye State is full of haunted haunts, but if you love ghost stories and haunted tales, then Cincinnati is a great place to be. This history-filled city in Southwest Ohio is packed with countless stories of creepy happenings, from ghostly apparitions to mysterious sounds heard in the halls of an old building. There are many places throughout the Queen City that are said to be haunted; here are a few haunted places in Cincinnati:
Lick Road: Lick Road is a short, winding road located northwest of Cincinnati off of Kemper. This road is the source of one of the most famous Cincinnati ghost stories about a lady named Amy. Legend has it that Amy has not left the area after her supposed murder by her boyfriend near this road. While the surrounding area is private property, many have claimed to have met Amy in ghostly form when they visit this haunted Cincinnati street.
Dent Schoolhouse: If you're looking for a fright-filled experience similar to the USS Nightmare, the Dent Schoolhouse is a popular haunted house on Harrison Avenue on the west side of Cincinnati, but many don't realize that it's more than just a cool attraction. The building was a school that opened in 1894, and there are many terrifying happenings that are said to make this one of the real haunted places in Cincinnati.
Spring Grove Cemetary: Finally, cemeteries are the setting of many, many ghost stories, and Spring Grove certainly has a few tales to tell. With a lengthy history and plenty of creepy-eyed sculptures decorating the landscape, it's difficult to walk the grounds and not feel a ghostly presence.
Related Articles
Featured Addresses

USS Nightmare, 101B Riverboat Row, Newport, KY 41071, USA