These 15 Breathtaking Waterfalls Are Hiding Right Here In Ohio
While the word "waterfall" might not come to mind when you think of Ohio, they're here, they're hiding, they're waiting to be discovered. From full-fledged falls to serene and steady flows, the most beautiful waterfalls in Ohio are diverse examples of natural beauty. Prepare to immerse yourself in the beauty of The Buckeye State, because this road trip is going to leave you longing for more time in the great outdoors. Check it out: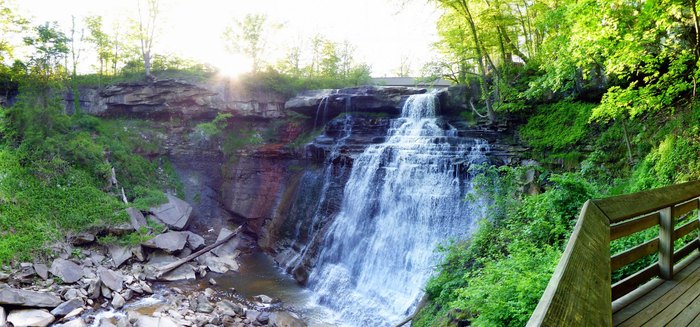 The most beautiful waterfalls in Ohio are diverse and lovely examples of why The Buckeye State is magical. Ohio is more than just farmland (with the occasional big city sprinkled in), yet features like these continue to surprise locals and visitors alike. Do you recognize any of these sites? Share your thoughts in the comments!
Can't get enough of Ohio waterfalls? Take our wine and waterfall road trip to see some of the most beautiful flows while enjoying the finest wines the state has to offer.
Address: Brandywine Falls, Sagamore Hills Township, OH 44067, USA
Address: West Falls Trail, W Falls Trail, Elyria, OH 44035, USA
Address: Paine Falls Park, 5570 Paine Rd, Painesville, OH 44077, USA
Address: Hayden Falls Park, 4326 Hayden Run Rd, Dublin, OH 43017, USA
Address: 53 N Main St, Chagrin Falls, OH 44022, USA
Address: 1001 Canfield Rd, Youngstown, OH 44511, USA
Address: 10211 Careytown Rd, New Vienna, OH 45159, USA
Address: Lyons Falls Trail, Perrysville, OH 44864, USA
Address: Cedar Falls, Logan, OH 43138, USA
Address: Clifton Gorge State Nature Preserve, 2381 OH-343, Yellow Springs, OH 45387, USA
Address: Buttermilk Falls, Brecksville, OH 44141, USA
Address: Indian Run Falls, 700 Shawan Falls Dr, Dublin, OH 43017, USA
Address: 21725 OH-374 Scenic, Logan, OH 43138, USA
Address: 2535 Ross Rd, Tipp City, OH 45371, USA
Address: 9140 Covington-Gettysburg Rd, Covington, OH 45318, USA
Most Beautiful Waterfalls In Ohio
September 06, 2020
What are the best waterfall hikes in Ohio?
The hikes to the aforementioned destinations are all magical, but there's one waterfall walk in particular that's truly unique. Brandywine Falls features a staircase and scenic overlook that gets you up close and personal with this impressive landmark.
Where can I hike to a cave in Ohio?
There are many caves in Ohio, from subterranean caverns to impressive and chapel-like rooms carved into local rock. One of the finest places to explore caves, as mentioned in this article, is in the Hocking Hills region of Ohio. This is an area that's full of natural gems, so budget plenty of time to explore the area if you plan a visit.
What are the most well known parks in Ohio?
The Cleveland Metroparks is a magical collective of parks in Northeast Ohio, and the Cincinnati Parks meet that need further south. However, Cuyahoga Valley National Park is the only national park in the state… and it is a favorite of locals and visitors alike.
Address: Brandywine Falls, Sagamore Hills Township, OH 44067, USA
Address: West Falls Trail, W Falls Trail, Elyria, OH 44035, USA
Address: Paine Falls Park, 5570 Paine Rd, Painesville, OH 44077, USA
Address: Hayden Falls Park, 4326 Hayden Run Rd, Dublin, OH 43017, USA
Address: 53 N Main St, Chagrin Falls, OH 44022, USA
Address: 1001 Canfield Rd, Youngstown, OH 44511, USA
Address: 10211 Careytown Rd, New Vienna, OH 45159, USA
Address: Lyons Falls Trail, Perrysville, OH 44864, USA
Address: Cedar Falls, Logan, OH 43138, USA
Address: Clifton Gorge State Nature Preserve, 2381 OH-343, Yellow Springs, OH 45387, USA
Address: Buttermilk Falls, Brecksville, OH 44141, USA
Address: Indian Run Falls, 700 Shawan Falls Dr, Dublin, OH 43017, USA
Address: 21725 OH-374 Scenic, Logan, OH 43138, USA
Address: 2535 Ross Rd, Tipp City, OH 45371, USA
Address: 9140 Covington-Gettysburg Rd, Covington, OH 45318, USA