In Northern Ohio, Brant's Apple Orchard Offers Guests A Sweet Slice Of Fall
Hot temps, festivals galore, outdoor recreation aplenty — there's pretty much nothing better than summer in Ohio. Except, perhaps, fall in Ohio. Especially in Northern Ohio, where the skies above Lake Erie are endlessly cerulean blue, and the crisp mornings and warm days conspire to create the most glorious, dazzling fall foliage in the country. (Sorry, Vermont!) And it's not just foliage that colors the landscape of the Buckeye State each autumn; it's our orchards. Fields and fields of glorious apple orchards, as far as the eye can see. Pumpkins often steal the show in the fall, but we're partial to apples. From plucking a ripe, juicy orb right off a tree to enjoying fresh-milled apple cider — and fresh-baked apple cider donuts —  apples are the original fall mascot. And in the Buckeye State, Brant's Apple Orchard is the most picture-perfect, family-friendly apple orchard of them all; a family-owned and operated Ohio orchard that offers guests the sweetest slice of fall.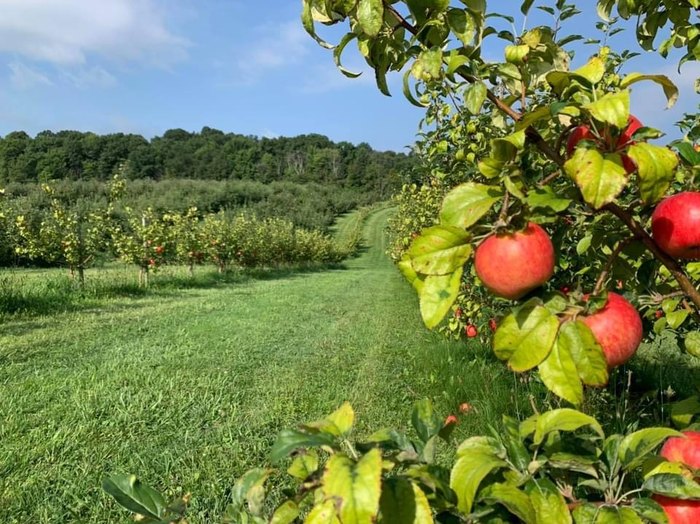 Many thanks to Jennifer and Brian Diehl of Brant's Apple Orchard for sharing the story of their delightful Ohio orchard. Learn more about Brant's Apple Orchard at its website, Facebook, and Instagram pages.
Of course, Brant's Apple Orchard is just one of the many amazing family-run farms and businesses in Ohio; please nominate your favorite attractions and businesses for a chance to be featured in an upcoming Only In Ohio article. And be sure to follow Only In Ohio on Facebook and Instagram to learn about this region of the Buckeye State's most incredible places, attractions, and events.
Address: Brant's Apple Orchard, 4749 Dibble Rd, Ashtabula, OH 44004, USA