Here Are The 10 Absolute Best Places To Stay In Ohio
There are so many options in Ohio for a nice stay – like the exquisite Landoll's Mohican Castle or lovely Put-In-Bay, or perhaps a stay in rustic yurts, but the true hidden gems are often found on sites like VRBO. We've put together some of the best places to stay in Ohio to help you start your accommodations search off right.
Best Affordable Places to Stay in Ohio
While ritzy resorts with an indoor pool and complimentary breakfast are a nice splurge, in these times, affordable accommodation in Ohio can be just as wonderful and is often much less stressful. These cabins are wonderful getaways at a steal of a price.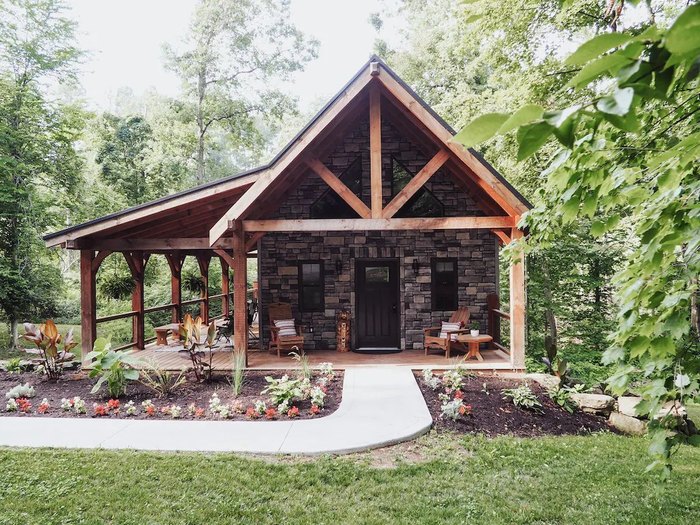 Best Places to Stay in Ohio for Families
When you've got the whole family together and need lots of space for everyone to do their thing while enjoying a nice meal together, you don't want to be cramped into expensive hotel rooms. Why stay at the inn when you can stay in a lovely home?
Best Romantic Places to Stay in Ohio for Couples
When it's just the two of you and you want a special romantic getaway where you have a place among the trees that is all to yourself, we've got you covered. These two vacation rentals in Ohio will make you swoon.
Best Places to Stay in Columbus
Columbus is the perfect home base when exploring Ohio, with its central location and many nearby cities like Sandusky and Toledo within a two-hour drive. If you're looking for a truly comfortable accommodation in Ohio in a pretty neighborhood, these locations fit the bill wonderfully.
Best Places to Stay in Cincinnati
Cincinnati is a city that's come a long way in recent years, and its proximity to the Kentucky border means there is much to explore nearby. After your adventures, you'll want to have beautiful and relaxing, yet fun surroundings to rest in, and these two places are tough to beat!
Now that you've seen our choices for where to stay in Ohio, make sure to get out there and see some of the amazing sights this state has to offer!
OnlyInYourState may earn compensation through affiliate links in this article.
Best Places To Stay In Ohio & Related Info
December 06, 2022
What are the best unique hotels in Ohio?
The best unique hotels in Ohio include:
Located in Cumberland, these well-appointed yurts make for a wonderfully unique glamping experience in Cumberland.
There are multiple kinds of bed and breakfast stays here including rooms, cabins, and cottages, all of which are within the lush Hocking Hills area.
Sebring Mansion Inn and Spa
This mansion in Sebring has several gorgeous rooms, each with its own fireplace. There's a spa, a full bar, and delicious breakfasts.
This inn has been taking in guests for over 200 years and boasts lovely fountains, beautiful gardens, and a stagecoach tavern.
Find out more about these and several more of the best unique hotels in Ohio.
Where are the most unique getaways in Ohio?
The most unique getaways in Ohio are:
This inn located in Burton has 17 rooms that have been creatively decorated and also has a suite. The surrounding bucolic farmlands are a lovely view.
Located in Danville, this getaway is in Amish country and has seven rooms, a guest house, and several cabins in lush surroundings.
This is a great place for a more secluded getaway in West Union and is a short drive from the Great Serpent Mound and the Edge of Appalachia Preserve.
The Club Level Honeycombs here are earth sheltered and look like a modern version of Hobbit homes and are surrounded by gorgeous gardens.
Learn more about these and many more of the most unique getaways in Ohio.
OnlyInYourState may earn compensation through affiliate links in this article.