If You Live In Ohio, You Must Visit This Amazing State Park
It's no secret that Ohio is full of beautiful state parks just waiting to be explored. There is one state park, however, that offers an unforgettable hiking experience, breathtaking views and photo opportunities you simply won't find anywhere else in the state. If you live in Ohio and have yet to experience Hocking Hills State Park for yourself, you aren't really living.
Hocking Hills State Park is arguably Ohio's most beloved state park, where waterfalls, caves, unique rock formations and hiking trails abound. The park features several things to do (including zip-lining), beautiful cabins to stay in and what is quite possibly the best hiking spot in the state: Old Man's Cave. Popular, must-see landmarks along the Old Man's Cave area trails include Cedar Falls, Old Man's Cave, Upper and Lower Falls, the Sphinx Head, Ash Cave and the Devil's Bathtub. (To view specific trail maps with exact distances and estimated times of completion, click here.)
No matter the season, the park is an undeniably stunning sight to behold.
Hocking Hills State Park in the summer: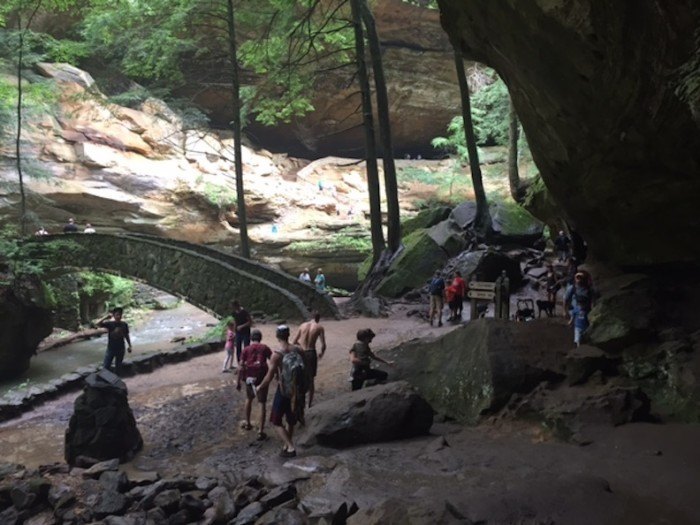 The Rock House:
Hocking Hills State Park in the fall:
Hocking Hills State Park in the winter:
Each year, the park hosts a group hike in January that features a 6-mile trek from Old Man's Cave to Ash Cave. While this year's hike has passed, we thought you would enjoy this video of a captivating winter hike last year after a signifiant snowfall:
Have you explored this beautiful state park for yourself? If so, please share your experiences and any photos you may have with us in the comments below! (If you haven't, I think you know what you need to do.)
OnlyInYourState may earn compensation through affiliate links in this article.