Posted in Ohio
August 30, 2022
The Most Affordable Ohio Road Trip Takes You To 6 Stunning Sites For Under $100
Life can get quite expensive, can't it? And while we're all for planning epic, bucket-list-worthy vacations and adventures, these experiences often come with epic price tags. Happily, there are lots of amazing places to visit in Ohio that won't cost you a dime — and many more than will only cost you a few dimes. We've put together our most affordable Ohio road trip ever, and believe us when we tell you that each and every one of the six destinations on this adventure is bucket-list worthy. Are you ready for the most amazing *and* affordable adventure ever? Let's go!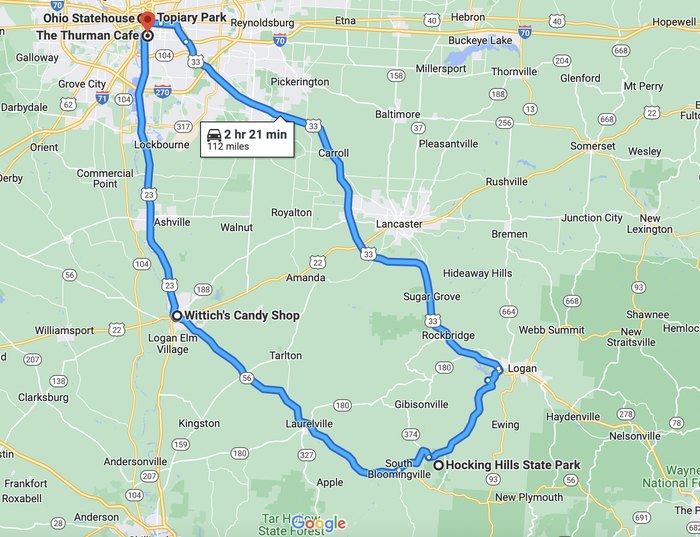 If you're doing the math, this road trip comes in well under $100, as the only charges along the way are at the candy shop and restaurant. Even accounting for a full tank of gas, you should be able to enjoy a day of affordable fun in Ohio, seeing new sights and trying new foods along the way!
Ohio is often lauded as being an affordable place to live, and the above road trip proves just that. We're so lucky to call the Buckeye State our home, and hope you discover some new-to-you places with this adventure.
Address: Wittich's Candy Shop, 117 W High St, Circleville, OH 43113, USA
Address: Hocking Hills State Park Cabins, Benton Township, OH 43138, USA
Address: Hocking Hills State Park, 19852 OH-664, Logan, OH 43138, USA
Address: Ohio Statehouse, 1 Capitol Square, Columbus, OH 43215, USA
Address: The Ted Lewis Museum, 133 W Main St, Circleville, OH 43113, USA
Address: Topiary Park, 480 E Town St, Columbus, OH 43215, USA
Address: The Thurman Cafe, 183 Thurman Ave, Columbus, OH 43206, USA