The Ghostly Mothball Fleet In Suisun Bay Is Shrinking Slowly Into A Foggy Memory
You may have seen ghost ships in the movies, but Benicia, California is home to an entire ghost fleet. Each year, the 'Mothball Fleet' shrinks, slowly fading into a foggy memory.
The Suisun Bay Reserve Fleet is a smaller branch of the National Defense Reserve Fleet operated by the Maritime Administration and originally intended to have the ability to deploy military equipment at a moment's notice. Most of these ships have been decommissioned and now sit silently in Suisun Bay, moored in large rows stretching across the calm waters. Ships in the Reserve Fleet could once be found in bays across the country. Today, only three of the eight sites exist: Suisun Bay, California; Fort Eustis, Virginia; and Beaumont, Texas.
Since 1946, more than 1,000 ships have called Suisun Bay home, and in 1956, the Benicia fleet reached capacity at 324 vessels.
Over the years, these ships have shed tons of toxic paint into the bay, much to the dismay of environmentalists and residents. Samples taken from the surrounding waters have shown toxic levels of lead, cadmium, and zinc, and these chemicals were found at elevated levels in several species living in the area. Although these samples did not show extreme toxicity levels, the chemical presence was significant enough for a lawsuit to be filed over safety concerns.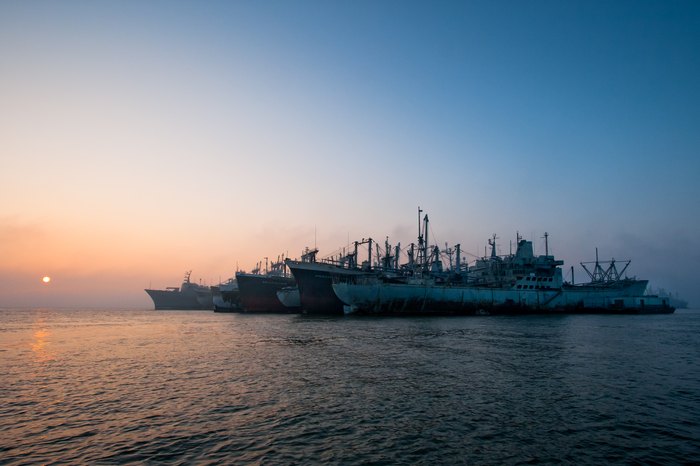 In 2009, the Obama Administration expedited a cleanup of the site to improve the quality of the water and protect the marine life. Approximately 300 tons of paint was removed from the ships, and many of the vessels in Suisun Bay were slated to be scrapped. Most of these scrapped ships were towed through the Panama Canal to their final deconstruction destination in Brownsville, Texas; however, several were disassembled locally in the Mare Island Naval Shipyard dry docks.
All of the vessels pictured here, with the exception of the U.S.S. Iowa, have been destroyed and removed from Suisun Bay. In March 2013, only 28 ships remained intact, and by 2016, only 12 vessels from the 'Mothball Fleet' still call Suisun Bay home.
Photographer Amy Heiden was given a rare opportunity to access and explore these incredible ships before they were disassembled and scrapped. To see more of her photos of the Mothball Fleet (and her other beautiful work), check out her website, Amy Heiden Photography.
OnlyInYourState may earn compensation through affiliate links in this article.