5 Haunted Hotels In San Francisco That Will Make Your Stay A Nightmare
Many restless spirits are said to lurk among us here in San Francisco, and a lot of them love to wander the rooms and hallways of some of the city's most lavish hotels (wouldn't you?!). Here are five of the most haunted hotels in San Francisco—sleep at your own risk.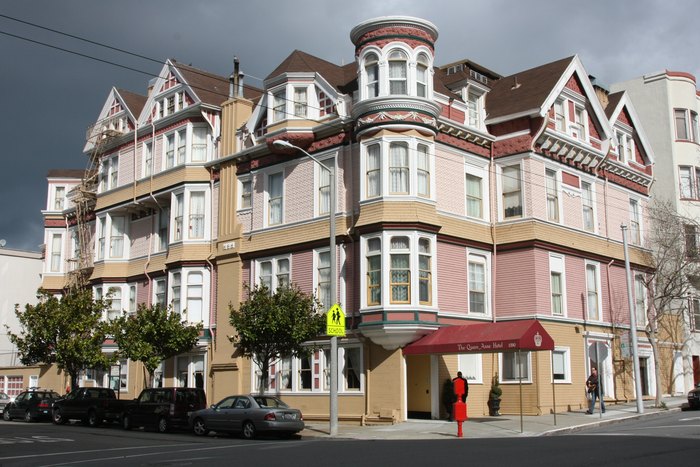 Some other spots to steer clear of if you're afraid of ghosts? The prestigious Fairmont on Nob Hill and the Sir Francis Drake Hotel on Powell Street. Have you stayed at any of these haunted hotels or been to any of these haunted places in San Francisco? Share your ghost stories in the comments!
Address: Queen Anne Hotel, 1590 Sutter St, San Francisco, CA 94109, USA
Address: Palace Hotel, a Luxury Collection Hotel, San Francisco, 2 New Montgomery St, San Francisco, CA 94105, USA
Address: Hotel Union Square, 114 Powell St, San Francisco, CA 94102, USA
Address: San Remo Hotel, 2237 Mason St, San Francisco, CA 94133, USA
Address: Hotel Majestic, 1500 Sutter St, San Francisco, CA 94109, USA
Haunted Northern California
August 29, 2022
Are there any more haunted hotels in Northern California? 
If you can't get enough of haunted accommodations, we have got your back! NorCal has lots of spooky spots to sleep (or stay up ghost hunting.) Of the many haunted hotels in Northern California, there is one in the town of Dunsmuir that may be the absolute scariest. The Hotel Dunsmuir has been around since the 1800s, and boy oh boy does it have a lot of ghosts. You may spot the spirit of a small child named Charlie, or of a young adult named James who tragically killed himself. There is even one room that the hotel refuses to rent out because there has been so much terrifying spiritual activity inside of it.
Are there any haunted hikes in Northern California?
Of course! If you like to feel chills up your spine while you traverse new terrain, then a haunted hike in Northern California will be right up your alley. You can lace up your boots and explore around the haunted Stowe Lake in San Francisco, it's an easy 2.1-mile loop and there is even a café for your caffeine fix, along with waterfalls, multiple types of terrain, and stunning views. This seems like an idyllic hike on the surface, however, if you dig a little deeper, you will learn that there are many tales of people seeing the ghost of a woman who died on the lake along with her baby. She is said to be soaking wet and may approach hikers to ask about her child. So keep your eyes open, and maybe don't stay too long after dark if you only want to be lightly creeped out.
What abandoned places can I visit in Northern California? 
There are TONS of abandoned places in Northern California that you can visit. Many have safety regulations or can only be admired from the outside, so make sure to look up the rules before you go galivanting! In the ghost town of Bodie, you will find abandoned cars that are slowly becoming one with nature — it's gorgeous in a creepy sort of way. Or maybe you're an architecture lover, then head to Oakland to admire the Loma Prieta, a stunning train station badly damaged by an earthquake in 1989. If you want to see a lot of abandoned places at once, then check out our Northern California road trip that fits in ten abandoned spots!
Address: Queen Anne Hotel, 1590 Sutter St, San Francisco, CA 94109, USA
Address: Palace Hotel, a Luxury Collection Hotel, San Francisco, 2 New Montgomery St, San Francisco, CA 94105, USA
Address: Hotel Union Square, 114 Powell St, San Francisco, CA 94102, USA
Address: San Remo Hotel, 2237 Mason St, San Francisco, CA 94133, USA
Address: Hotel Majestic, 1500 Sutter St, San Francisco, CA 94109, USA