10 Easy Hikes To Add To Your Outdoor Bucket List In San Francisco
Surrounded by natural beauty and spoiled by amazing weather year-round, San Francisco is a hiker's paradise. One of our favorite hikes in the city is the coastal Batteries to Bluffs Trail, but here,we wanted to include some easier and often overlooked urban and nature hikes in San Francisco for all levels of hikers. Let's take a look at the best easy hikes in San Francisco!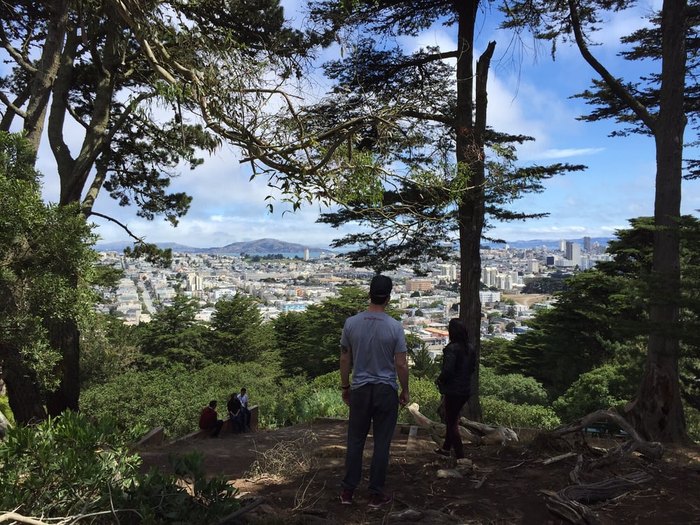 For more great walking adventures, check out these incredible hikes under five miles everyone around San Francisco should take.
Address: 50 Stow Lake Dr, San Francisco, CA 94118, USA
Address: Park Hill Avenue, Park Hill Ave, San Francisco, CA 94117, USA
Address: California Coastal Trail, California Coastal Trl, San Francisco, CA 94129, USA
Address: Mission Creek Park, Channel St, San Francisco, CA 94158, USA
Address: Crissy Field East Beach, San Francisco, CA 94129, USA
Address: Sunset Reservoir, San Francisco, CA 94122, USA
Address: 32 Museum Way, San Francisco, CA 94114, USA
Address: 100 John F Shelley Dr, San Francisco, CA 94134, USA
Address: Bay Area Ridge Trail, Fairfield, CA 94534, USA
Address: Heron's Head Park Wetland, San Francisco, CA 94111, USA
Best Hikes In San Francisco
July 19, 2022
Where are the best hiking trails near me?  
If you're located in San Francisco and you worry that you'll never find amazing hiking trails within or close to the city limits, don't – as it turns out, there are hundreds of miles of amazing trails scattered all over the city that are perfect for a brief escape. Some of the best hiking trails in San Francisco include awesome hidden gems like the amazing Lands' End Trail, a challenging 3.4-mile trek within the Golden Gate National Recreation Area. It's a favorite with the locals and the tourists both and for lots of reasons, like its stunning natural beauty and historic significance. We also adore the two-mile-long Mount Sutro Loop trail, which features a native garden and a little slice of the wilderness within city limits.  
What are some of the most amazing scenic hikes in San Francisco?  
The list goes on forever, it seems, but that's okay – we love having plenty of options. Some of the most remarkably scenic hikes in San Francisco are ones like the awe-inspiring Batteries to Bluffs Trail at the Presidio of San Francisco. It's 2.3 miles in length and quite easy, providing a relief from the challenging trails mentioned above. Another jaw-droppingly amazing hiking trail in San Francisco is the Glen Canyon Park trail, a stunning hike weaving through Glen Canyon that's known for its incredibly green rolling hills, wildflowers, and being home to one of the few free-flowing creeks in the city. It certainly doesn't feel like you're still within city limits, and we are obsessed.  
What are the most popular easy hikes in San Francisco?  
Sure, San Francisco has a good, healthy number of challenging or difficult hikes, but what if you don't feel like overexerting yourself today? No worries – that's where our epic easy hikes in San Francisco come in, and just because they're easy doesn't mean they're not worth it. They are AMAZING, and we think you'll love them. Want something a little longer? Do the 6.3-mile Golden Gate Park Loop, which is an excellent way to explore the third-most-visited park in the United States. We also love the Mount Davidson trail, which is short and sweet (just one mile long) and features jaw-dropping views of the city from the highest natural point. When it comes to scenic views in San Francisco, that one's tough to beat.  
Address: 50 Stow Lake Dr, San Francisco, CA 94118, USA
Address: Park Hill Avenue, Park Hill Ave, San Francisco, CA 94117, USA
Address: California Coastal Trail, California Coastal Trl, San Francisco, CA 94129, USA
Address: Mission Creek Park, Channel St, San Francisco, CA 94158, USA
Address: Crissy Field East Beach, San Francisco, CA 94129, USA
Address: Sunset Reservoir, San Francisco, CA 94122, USA
Address: 32 Museum Way, San Francisco, CA 94114, USA
Address: 100 John F Shelley Dr, San Francisco, CA 94134, USA
Address: Bay Area Ridge Trail, Fairfield, CA 94534, USA
Address: Heron's Head Park Wetland, San Francisco, CA 94111, USA