Roaring Camp Train Rides Offer Some Of The Most Breathtaking Views In Northern California
Hop aboard a train and see the redwoods forest like never before when you plan a family day trip to Roaring Camp. Today, Roaring Camp Railroad acts like a time capsule to the past, complete with old-timey buildings and employees dressed like they've walked straight out of the 1800s. They also offer two breathtaking train rides through towering redwood groves. Big or small, young or old, you'll be enthralled by the gorgeous scenery and historic setting from the moment you climb aboard this train ride in Northern California.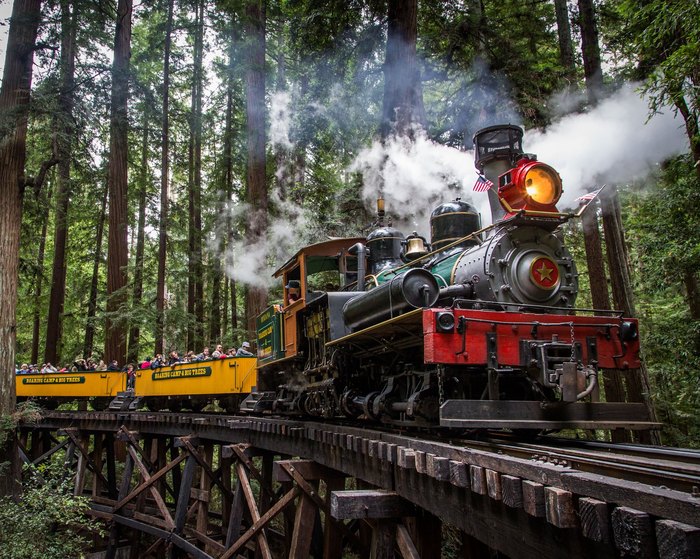 What do you think? Have you enjoyed a train ride at Roaring Camp Railroad? What's your favorite train ride in Northern California with breathtaking views? Feel free to share your thoughts with us!
Address: Roaring Camp, 5401 Graham Hill Rd, Felton, CA 95018, USA
Scenic Activities In Northern California
September 09, 2022
What are the most scenic hikes in Northern California? 
There are lots of opportunities to get out and go hiking in Northern California and see some gorgeous sites as a reward for all your hard work. If you're willing to spend a few bucks for the perfect view, then we think you'll love the Trees Of Mystery. You have the opportunity to both hike through the state's stunning redwoods as well as take a gondola up to the top of a mountain to look above these stunning natural wonders. For a slightly more grounded hike, the Fern Canyon loop trail is a densely forested hike surrounded by high canyon walls. You'll feel so far from the modern world as you trek this trail.
Are there any scenic road trips to take in Northern California? 
If gassing up is more your speed than lacing up, then we have put together a few road trips through Northern California that we think you'll really enjoy. In just under four hours of driving time, you could visit 11 of the many stunning waterfalls in Northern California. Or perhaps you want to take a dip, then this road trip full of stops at hidden beaches is likely gonna be just the ticket.
Are there any natural wonders in Northern California? 
The natural wonders in Northern California are aplenty! You can start your journey of discovery with a drive along highway 1, full of frightening cliff drops, gorgeous greenery, and crystal clear beaches, this drive shows off the best of Northern California's natural beauty. Or you could drive through a stunning natural tree tunnel near the Point Reyes National Seashore. And you can't skip a visit to the wildly impressive Mount Shasta. The stunning snow-capped peaks are truly something to marvel at and many people love to camp in the area so they can spend multiple days admiring its largess.
Address: Roaring Camp, 5401 Graham Hill Rd, Felton, CA 95018, USA