The Lighthouse Road Trip On The Northern California Coast That's Dreamily Beautiful
Did you know that Northern California is home to some of the most spectacular lighthouses in the country? With our rocky shorelines and dramatic coastal features, it was definitely necessary for these beacons to guide ships safely through the storms. A drive up or down gives you plenty of amazing views of these lighthouses. Some of them are open to the public for tours, others are seen only from a distance. No matter how close you get, this lighthouse road trip in Northern California, right along the coastline, is a trip that should be on everyone's bucket list.
Take a look below, and we'll take you on a trip to visit all of the historic lighthouses in Northern California. There's quite a few of them, and you won't want to miss a single one!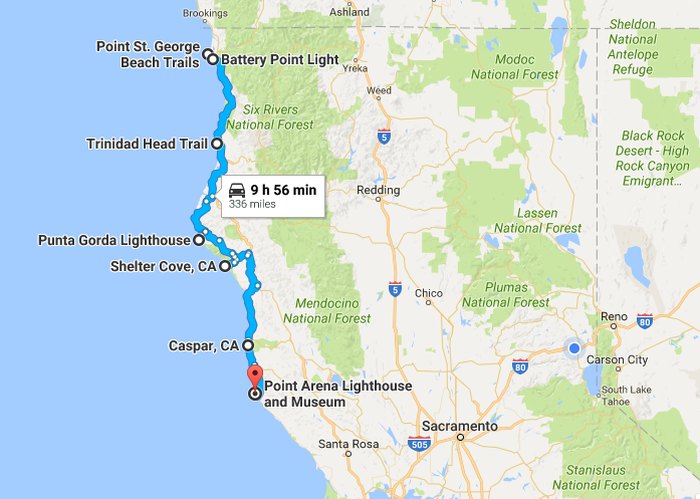 Well, what are you waiting for? With more storms on the way this weekend, it sounds like the perfect time for a trip to the coast! For more Northern California road trip ideas, check out our previous article: The Perfect Weekend Itinerary If You Love Exploring Northern California's Waterfalls
OnlyInYourState may earn compensation through affiliate links in this article. As an Amazon Associate, we earn from qualifying purchases.
More to Explore
lighthouse road trip in Northern California
What is the most famous lighthouse in Northern California?
The most famous lighthouse in Northern California is most likely the Pigeon Point Lighthouse. It's located along the famed California coastline and can be found roughly 50 miles south of San Francisco, just north of the famed beach town of Santa Cruz. The historic lighthouse in Northern California has been warning seafaring folk of the craggy coastline since 1872. It remains one of the most popular lighthouses to photograph in the state and is a solid nod to the marine history of the state. The beautiful, white structure stands high above a series of rough rocks and crumbling cliffs, and it continues to regale visitors with its stoic beauty.
Are there any other unique road trips to take in Northern California?
California is a state that lends itself to road trips! It's known for its massive highways and natural wonders, which means that if you're looking to experience an unforgettable road trip through Northern California, we have you covered. You can make your way along the coast to visit a heap of hidden beaches or mark your maps for the waterfalls that dot the central and eastern edge of the state. From taco trails to small towns to a redwood-centric road trip, Northern California is sure to have a unique road trip to meet the needs of your next family vacation. Make sure to find your way along the mountain town road trip, if you can, and make a whole vacation out of the beautiful covered bridges found around the state.
What else can I do along the coast in Northern California?
There are all sorts of things to do along the Northern California coastline. From wine tasting in the north bay to Walking the Golden Gate Bridge or exploring the giant redwoods trees up north, you can't go wrong. We'd recommend everything from renting a car to traverse the coast to snagging a beach house in Santa Cruz where you can chill out for the weekend. There are hundreds of miles of coastline for you to take advantage of, and places like Bodega Bay and Carmel are perfectly attuned to visitors. Make sure to try out some sourdough and saltwater taffy while you're at it, friends!
Related Articles
Featured Addresses

124 LA-22, Ponchatoula, LA 70454, USA

Battery Point Lighthouse and Museum/Crescent City Lighthouse, 235 Lighthouse Way, Crescent City, CA 95531, USA

Punta Gorda Lighthouse, Petrolia, CA 95558, USA

13800 Point Cabrillo Dr, Mendocino, CA 95460, USA