Here's The Perfect Weekend Itinerary If You Love Exploring Northern California's Waterfalls
Northern California is a spectacular place for many things, but when it comes to road trips and waterfalls, there's no other place to top it. Here's what happens when you put two and two together: the ultimate waterfall road trip! In just about four hours of driving time, you can explore nine – count 'em – nine different falls. Add in a few hours here and there for walking to the falls and stopping for breakfast and lunch, and you'll have a grand old time on this trip! You'll love these incredible waterfall day trips in Northern California for sure.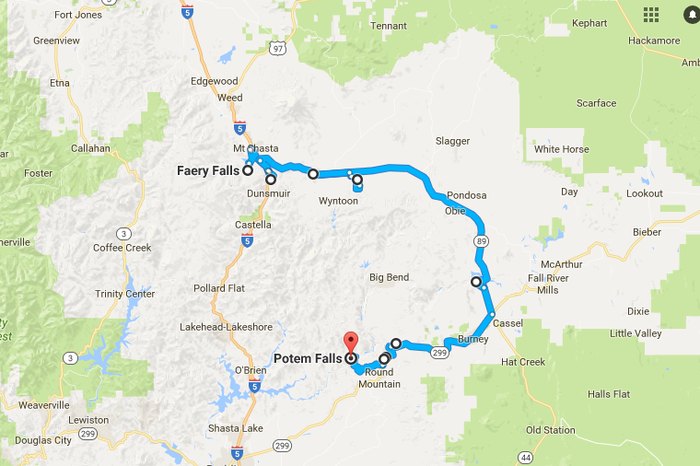 10. Lion Slide Falls
You'll love stopping by Lion Slide Falls as you make your way back to I-5 and on home. It's another popular spot both for swimming and cliff jumping. The falls are divided right in the middle by a massive, dead tree trunk, which serves as a fun natural staircase that you can climb up and jump in all over again.
11. Montgomery Creek Falls
Montgomery Creek Falls is another waterfall with multiple stunning tiers. The bigger, lower tier is located right under the bridge below Montgomery Creek Road, so you don't even have to get out of the car to sneak a peek! The upper is immediately upstream of the bridge. This is the last waterfall on this itinerary. From here, you are welcome to find a place to camp for the night near Shasta Lake, get a hotel room in Redding, or drive home for the evening: whatever floats your boat and fits in best with your travel plans!
So, what do you think? Did you know most of these waterfalls are within 2 hours of each other?
Did you know about these waterfalls to drive to in Northern California? Are you eager to hop in the car and see these beauties? Be sure to let us know your thoughts by checking in with us in the comments. Need more amazing Northern California wonders? Check out this list of 21 incredible places in NorCal you've got to see before you die.
OnlyInYourState may earn compensation through affiliate links in this article.
More to Explore
Waterfall Day Trips In Northern California
What are the most amazing natural wonders in Northern California? 
Well, the very first thing that comes to mind when most folks are thinking about NorCal is the incredible Redwood forest. Trees don't get a whole lot more majestic than that! There's also the pristine Lake Helen, at Lassen Volcanic National Park. If you're looking for a sapphire-blue swimming spot, that one is it. If you've never seen the tiny island of Trinidad, now is a great time, too. It's got all the intrigue of a deserted island, but it's right off the coast. Awesome! For more of our favorite picks of NorCal's best natural wonders, check this article out!
What are some interesting places to visit in Northern California?  
The entire region is interesting and well worth a visit, in our opinion. However, there are some things you've just got to do if you're hoping to get the full NorCal experience. First, you should absolutely take a drive along the world-famous Highway 1, which is an incredible coastal adventure that will introduce you to the most incredible views on the west coast. Should you take that journey, you'll encounter the fairy-tale town of Carmel by the Sea, and you'll see the most amazingly quaint and beautiful homes you've ever seen, plus some breathtaking scenery to boot. Speaking of drives, if you haven't driven through the tree tunnel in Point Reyes yet – you need to.  
What kind of things to do in Northern California are there? 
Plenty! If simply lounging by the ocean isn't on your to-do list (and if it is, there are more than 300 public beaches up here!), no worries – there's still much to do! NorCal is home to five National Parks (including the incredible Redwood Forest), and there are 19 epic state parks just waiting to be explored. Camp in any one of the hundreds of awesome campgrounds around the region and go fishing in any one of our hundreds of beautiful ponds, lakes, and rivers. Lovers of waterfalls and forest hikes will find a home here, as we've got incredible views and quite the incredible home.  
Related Articles
Explore Northern California
Featured Addresses

Faery Falls, California 96067, USA

Potem Creek, California, USA

McCloud Falls - Upper Fall, Upper Fall Rd, McCloud, CA 96057, USA

McCloud River - Middle Falls, McCloud, CA 96057, USA

Lower Falls, McCloud River, McCloud River, McCloud, CA 96057, USA

241 Main St, McCloud, CA 96057, USA

Mossbrae Falls, California 96025, USA

Burney Falls, California 96013, USA

37148 CA-299, Burney, CA 96013, USA

Lion Slide Falls, California 96065, USA

Montgomery Creek, CA 96065, USA