The Monterey Bay Aquarium In Northern California Offers Free Livestreams Of Sharks, Jellyfish, And More
Here in Northern California, the adventure doesn't stop — even on rainy days, heat waves, or winter weather! Thanks to the good ol' interweb, we can experience some of NorCal's greatest attractions from the comfort of our homes. One virtual experience that you should definitely be aware of is Monterey Bay Aquarium's free daily live streams. With only your computer or phone, you can view the aquarium's most amazing creatures, ranging from majestic sharks to adorable otters. Visit Monterey Bay Aquarium in Northern California — without leaving home!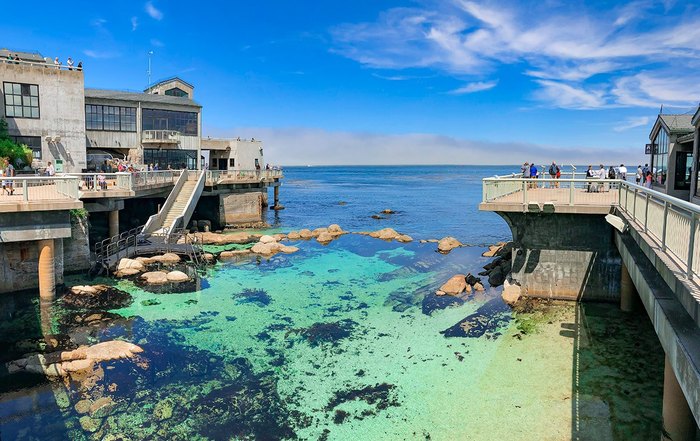 Take a closer look at this amazing aquarium:
Did you know about the free live streams offered by Monterey Bay Aquarium in Northern California? What a fun way to explore this amazing attraction in Northern California! If you've been here, let us know how it was in the comments. If you enjoy marine life, check out these amazing whale-watching spots in Northern California.
OnlyInYourState may earn compensation through affiliate links in this article.
More to Explore
Monterey Bay Aquarium in Northern California
Aside from Monterey Bay Aquarium, what are some other amazing attractions in Northern California?
Amazing attractions in Northern California include:
Apple Campus
Big Sur
San Luis Obispo
If you're in NorCal and looking for some fun, new-to-you places to explore, the world really is your oyster. If you're a tech junkie, the Apple Campus in Cupertino is basically the promised land! Looking for a coastal town to call home for a few days? Equal parts romantic and outdoorsy, Big Sur is the perfect pit stop to see some gorgeous nature and take romantic walks on the beach. San Luis Obispo is an amazing day trip destination in NorCal; this friendly college town is filled with interesting history and culture. Check some of it out at the San Luis Obispo Museum of Art. Want to visit all of these places in NorCal in one epic adventure? We've designed this amazing Northern California road trip that does just that!
What are some great state parks to explore in Northern California?
Great state parks to explore in Northern California include:
Humboldt Redwoods State Park
Headwaters Forest Reserve
If you can't get enough NorCal nature, definitely plan to visit the largest state park in California, which just happens to be in NorCal! Nowhere else in the world will you be more awed by majestic redwood trees than Humboldt Redwoods State Park. Located in Northern California along picturesque Highway 101 approximately 32 miles south of Eureka and 217 miles north of San Francisco, Humboldt Redwoods State Park is not only the largest state park in California; it is also home to the largest old-growth contiguous redwood forest on the planet! To say that the trees here are massive would be an understatement. To see some of the biggest redwoods here, visitors can traverse the famous "Avenue of the Giants." Spanning 32 miles, it runs parallel to Highway 101, winding its way through some of the most beautiful landscapes in the country. 
Another beautiful natural area in NorCal that's teeming with wildlife is Headwaters Forest Reserve. Comprised of 7,472 acres, Headwaters Forest Reserve is home to a rich ecosystem filled with old-growth redwoods, ferns, historic structures, and meandering trails. After a decade-long grassroots effort to protect the world's last unprotected yet intact redwood forest ecosystem, the reserve was officially established in 1999. Today, the reserve is home to several threatened species, such as coho salmon, the northern spotted owl, and the marbled murrelet. It's a location that looks straight out of a fairytale, and you'll want to see it for yourself.
Related Articles
Explore Northern California
Featured Addresses

Monterey Bay Aquarium, 886 Cannery Row, Monterey, CA 93940, USA