Most People Have No Idea There's An Underwater Ghost Town Hiding In North Dakota
One of the most popular spots in North Dakota is Lake Sakakawea. Tons of people visit it for fishing, boating, and other water recreation, and there are many towns and cities located around its edges. The lake itself is massive – the biggest body of water in the whole state – and has more shoreline than California. But to create such a lake took unfortunate sacrifice.
Lake Sakakawea is not a natural formation, of course. It was created as a result of the Garrison Dam. Before the Garrison Dam was built in 1947, the Missouri River lazily flowed through that area of North Dakota. Two towns were located along the river and those towns were completely submerged as soon as the dam was completed.
The towns were Sanish and Van Hook. As soon as the dam project went into place, the residents of those towns were forced to leave. The land was originally owned by the Three Affiliated Tribes and had been for hundreds of years and was now being taken away with no choice in the matter. They fought the government to keep the land but were forced to accept a $7 million settlement, and with that, they would not be allowed any use of the land along the lake.
Replacement towns were settled by the displaced residents of the now inundated towns. These were New Town and (new) Sanish. Very rarely does the water drop enough to reveal the ruins of the old towns. For the most part, they are completely submerged and lost like the city of Atlantis.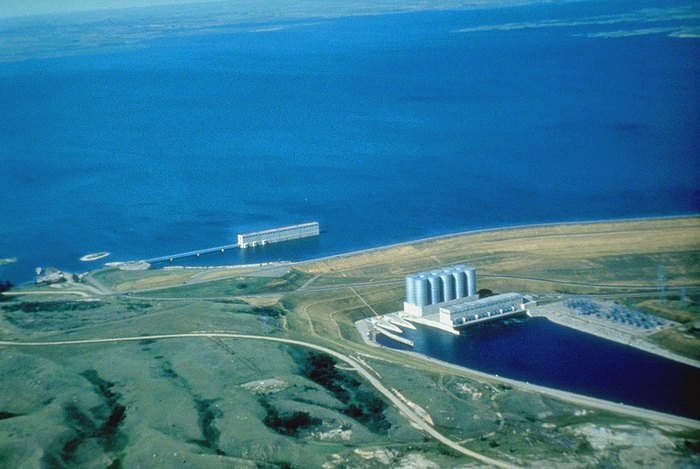 These are the state's only hidden underwater ghost towns, but some people worry that Devils Lake will soon swallow up some of the towns on its edges due to its ever-increasing size each year – and Devils Lake is completely natural. Only time will tell; as of now, we only have these.
If you're interested in some other creepy ghost towns, take a look at this abandoned town in North Dakota. Though not underwater, it is hauntingly beautiful in a way.
OnlyInYourState may earn compensation through affiliate links in this article.
Address: Lake Sakakawea, North Dakota, USA
Lake Sakakawea Underwater Town
June 03, 2022
What is some truly interesting Lake Sakakawea history?  
Lake Sakakawea is in pretty much smack-dab central North Dakota. It's a man-made reservoir impounded in 1953 by the Garrison Dam. It varies anywhere from two to three miles in width (although at its widest it's 14 miles wide!) and at its deepest, it's 180 feet deep. The creation of the lake led to many problems, especially for Native American tribes living close by, many of whom were completely displaced when the new lake filled in areas of their land. There was also a small reservation town by the name of Elbowoods that was pretty much completely lost to the creation of Lake Sakakawea, and to this day, there are whispers of an underwater ghost town in its depths.  
Where are some awesome ghost towns in North Dakota?  
Speaking of ghost towns, did you know that there are at least 80 known ghost towns in North Dakota alone? Sure, our state might be one of the least populated, but hey – we know how to create a good ghost town. Some of the more fascinating abandoned towns in North Dakota include gems like Wheelock, where a lot of the old businesses still stand, and places like Charbonneau are so far gone that very few buildings remain at all (but there is still a cemetery). Other interesting North Dakota ghost towns include ones like Temple, Freda, and Verendrye.  
Where are the creepiest abandoned places in North Dakota?  
North Dakota is a state with plenty of ghosts and residual hauntings, especially in some of its decaying places – of which there are a lot. For example, if you're brave, you ought to check out the old San Haven Sanatorium, which was known for its awful conditions even during times when awful conditions were the norm, and you also can't miss a trip to ghost towns like the ones listed above and others like Alkabo. Other fun, creepy places in North Dakota to check out include old cemeteries around which nothing else remains – the ghostliest of ghost towns – and plenty of old, abandoned homesteads all over the state just begging to be put on the cover of a Netflix haunted houses documentary.