Walk Through 70,000 Acres Of Rock Formations At North Dakota's Theodore Roosevelt National Park
You've probably seen the beautiful, colorful hills and buttes of the Theodore Roosevelt National Park. Looking closer, however, you might see some truly fascinating things. The huge, expansive park is loaded with unique geological formations hidden among the valleys and on the sides of the canyons. Feeling adventurous? Explore the park to find some of them! These unique rock formations in North Dakota are a part of one of the best hikes in the state.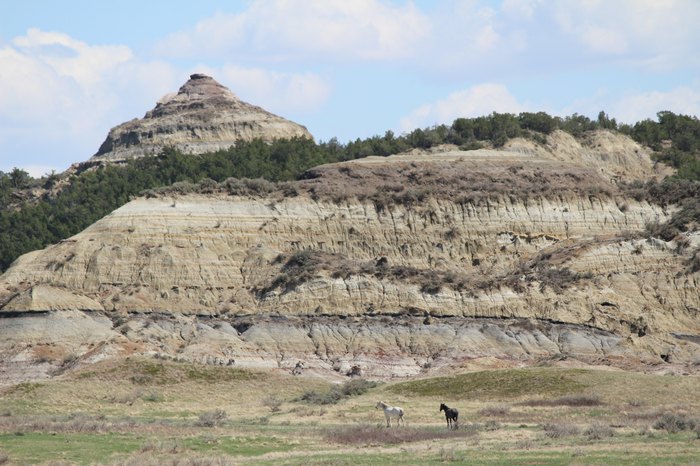 Which of these formations have you seen yourself? The National Park Service website has a page with more information about them, and how to visit.
Too cold to hike the badlands? You should check out an amazing, rare collection of rocks and minerals at this quirky rock museum in North Dakota.
OnlyInYourState may earn compensation through affiliate links in this article.
Address: Theodore Roosevelt National Park, North Dakota, USA
National Parks to Visit in North Dakota
February 25, 2022
What are some of the best hiking trails in North Dakota?  
With more than 170 amazing hikes all over the state to choose from, it's hard to know where to even begin! If we can recommend a few, we suggest the amazing Caprock Coulee Loop Trail, which is located within Theodore Roosevelt National Park. It's 4.4 miles long, and rated as moderate. It's one of the most popular trails in the state – as are many trails within the same park. Other Theodore Roosevelt National Park trails we strongly suggest hikers embark upon are the awesome Wind Canyon Trail, which is short – just a half-mile long – and easy enough even for little kids to do. Other great trails include the 8.3-mile but only moderately challenging Harmon Lake Trail, in Mandan, and the Bison Plant Trail, which can be found at the Minot Park District and is an easy 2.3 miles. Want more information about Theodore Roosevelt National Park and its awe-inspiring trails? Check this article out! 
What are some of the best parks in North Dakota? 
North Dakota is an awesome state for anyone who enjoys the great outdoors. Our state is home to 13 state parks, all of which are wonderful and awe-inspiring in their own ways. There are three National Parks/National Park Services in North Dakota as well. However, if you're looking for great city and/or local parks to bring the kids to, we have plenty of suggestions for those, too! Head to Fargo; it's home to numerous awesome little parks. Our favorite Fargo-area parks include Forest River Park, which is great for folks who enjoy watching wildlife. If you have little ones, take them to Lindenwood Park while in Fargo. Or you can head to Minot and check out Oak Park, which is home to a gigantic playground that kids of most ages love.