Take This Hidden Gems Road Trip When You Want To See Some Little-Known Places In North Dakota
If there is anything that most adventurers can definitely vouch for, it's that we sure do love our hidden gems. Sometimes, it's beyond fun to just hop in the car and go check out those strange or otherwise offbeat places in our home states that just don't get enough love. Well, we're back with another road trip full of hidden gems in North Dakota, and this one is a doozy! Hop in the car, gas up, and let's go – this should be a blast! Follow along (or edit your own route) using this map. The entire trip should take a little over 8 hours, so make a day or long weekend out of the drive.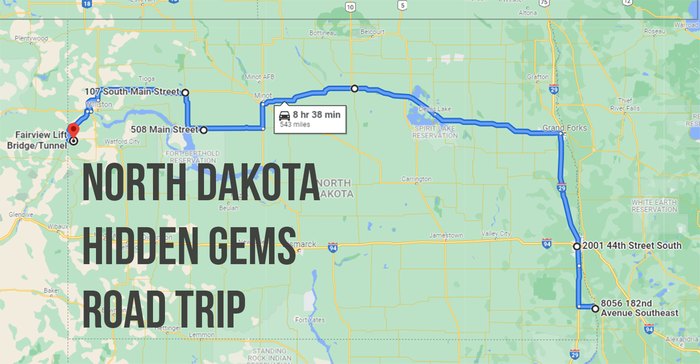 So, there you have it – a fun, albeit a bit offbeat, road trip for your next outing to seek those hidden gems in North Dakota. Now you just have to decide if you want to check out these gems again if you have to make the return drive, or maybe you will continue to seek new adventures and more road trips of hidden gems in North Dakota and beyond. What are some of your favorite North Dakota oddities that you would like to see included in a future road trip? Tell us your thoughts in the comments!
OnlyInYourState may earn compensation through affiliate links in this article.
More to Explore
Hidden Gems In North Dakota
What are some other hidden gems in North Dakota?
North Dakota is full of hidden gems! No matter what secretive place you are in search of, you can find it on one of these lists of hidden gems in North Dakota:
If you're still seeking more of the best-kept secret locations in the state, check out this list of hidden gems in North Dakota.
What are some North Dakota mysteries and oddities?
There are a surprising number of North Dakota mysteries and oddities. Here is a list that may intrigue you, and certainly leave you feeling baffled by the happenings:
Not every oddity has to be mysterious. Check out this list of North Dakota oddities, and see how many you find yourself relating to!
Related Articles