Watch Hundreds Of Bison Roam At This Beautiful 70,000 Acre Park In North Dakota
One of the most iconic animals of North Dakota is the bison. From the champion college sports team mascot in Fargo to the rare white bison and towering statue in Jamestown and the many wild bison that roam the prairie, you'll find them in just about any region of this state. If you want to get a true bison experience, then you won't find a better one than is found at North Dakota's huge and beautiful Theodore Roosevelt National Park in the west. It's easily the best place to go if you're looking for where to see buffalo in North Dakota, and it's a gem you won't soon forget!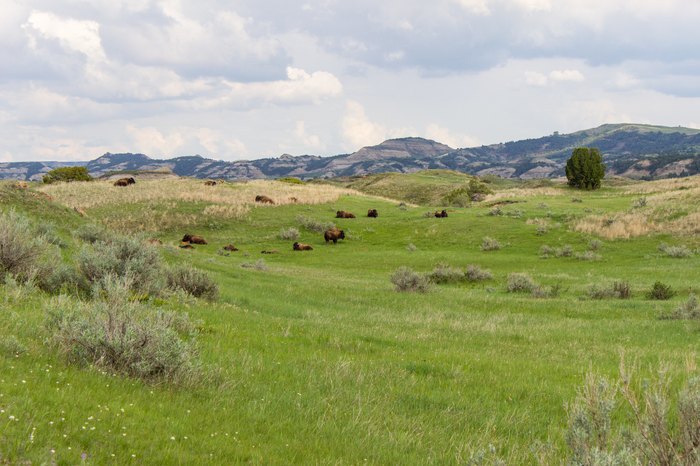 You can find bison herds in both the North Unit and South Unit of the park. To find more information on both units, visit the official Theodore Roosevelt National Park website.
Did you know you can also see bison in another park all the way near Devils Lake, North Dakota? Sullys Hill National Game Preserve is another stunningly scenic and fascinating place with lots of wildlife to view, bison included.
OnlyInYourState may earn compensation through affiliate links in this article. As an Amazon Associate, we earn from qualifying purchases.
More to Explore
Where to See Buffalo in North Dakota
What is the population of bison in North Dakota?  
Bison are the largest native land mammal in North Dakota, and they thrive on the rolling prairies and plains of our gorgeous state. As of the time of this writing, there are approximately half a million bison in North Dakota alone, many of whom call Theodore Roosevelt National Park home in all its stunning, wide-open glory. Believe it or not, though, North Dakota is not the bison capital of the United States – that title belongs to our sister state down south, but we digress: there are plenty of bison in North Dakota, and you can watch some of them as they go about their business at a few of our amazing state and national parks.  
Where are the best places for watching buffalo in North Dakota?  
So where's a person interested in watching buffalo in North Dakota to go? We happen to have some fun suggestions for anyone looking to go wildlife watching in North Dakota, especially for bison. We think the perfect place for it is both the north and south units of Theodore Roosevelt National Park, an incredible landscape deep in the Badlands known to be teeming with the beasts. In the late 1800s, bison used to roam the region in herds numbering in the thousands until they were very, very nearly wiped out by overhunting. Today, the population is still on its way back up, and one can expect to see herds of several hundred bison at Theodore Roosevelt National Park.  
Where is Theodore Roosevelt National Park and how large is it?  
Theodore Roosevelt National Park is located in west-southwestern North Dakota, where the vast, open plains meet the wild terrain of the rugged Badlands. It's enormous, covering an impressive 70,446 acres, and it's one of North Dakota's most scenic places. It's so much more than just a place for watching the bison roaming about; explore the trails and see all of the most amazing parts of the park on foot, like the incredible Petrified Forest found in the south unit of the park. It includes a ten-mile hike to see some of these fascinating geological wonders and we cannot recommend it highly enough! 
Related Articles
Explore North Dakota
Featured Addresses

Theodore Roosevelt National Park, North Dakota, USA