An Adventure Park Hiding In The Middle Of A North Carolina Forest, ZipQuest Is A Must-Visit
When one thinks of waterfalls, hiking trails, forested areas, zip lines, and outdoor adventure – Fayetteville is not typically the first place to come to mind. While the mountains are the usual destination for this type of fun, Fayetteville is home to a hidden oasis of ziplines, canopy trails, tree walks, waterfalls, and daring feats. Needless to say, you'll want to plan a trip to this amazing adventure park known as ZipQuest in North Carolina.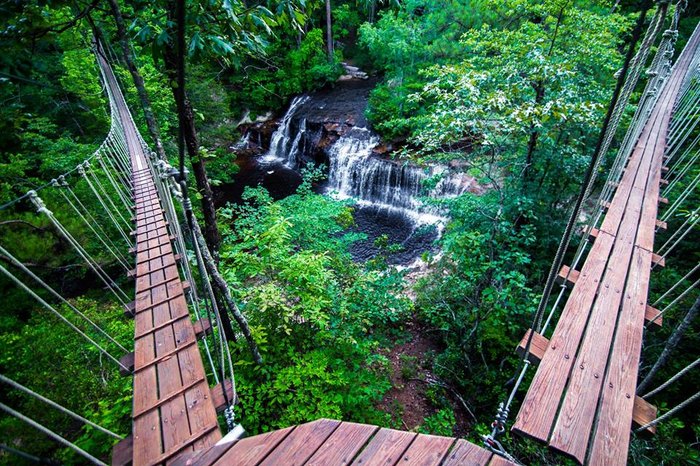 Have you ever visited ZipQuest in North Carolina? If so, we'd love to hear all about your adventures! For more information, including directions and pricing, be sure to visit the official website. And speaking of adventure, these 11 incredible trips in North Carolina will change your life.
Address: ZipQuest - Waterfall & Treetop Adventure, 533 Carvers Falls Rd, Fayetteville, NC 28311, USA
ZipQuest in North Carolina
October 28, 2020
What are the best waterfalls to see in North Carolina?
North Carolina is home to hundreds upon hundreds of waterfalls, from rushing gorges to flowing cascades. In fact, one could easily spend an entire lifetime exploring all the beautiful waterfalls located in North Carolina. If you're curious about experiencing the best waterfalls in the state, there are plenty that belong on your radar. Some of the best, most beautiful North Carolina waterfalls include Looking Glass Falls, Dry Falls, Sliding Rock, Rainbow Falls, Hooker Falls, Triple Falls, High Falls, Crabtree Falls, and Linville Falls. For an all-day waterfall adventure, check out our waterfall road trip through North Carolina.
What are the most beautiful hikes in North Carolina?
Just as there are countless waterfalls in North Carolina, there are truly thousands of miles of hiking trails to explore in the Tar Heel State. Outdoor lovers of all ages and abilities will find something to enjoy in the great outdoors. For endless doses of fresh air and scenery, there are beautiful trails that await. Some of the best and most popular hikes in North Carolina include Grandfather Mountain Trail, Grassy Ridge Bald via the Appalachian Trail, Hanging Rock Trail, Rainbow Falls and Turtle Falls Trail, Calloway Peak Trail, Moores Knob Trail, Elk Knob Summit Trail, Crabtree Falls Trail Loop, Craggy Pinnacle Trail, Black Mountain Crest Trail, and Rock Castle Gorge Loop.
What are the best outdoor activities in North Carolina?
North Carolina is truly an outdoor lover's dream come true. If you visit North Carolina for recreational opportunities, you're in luck! There are endless adventures that await in the Tar Heel State. Some of the best outdoor activities in North Carolina include hiking, biking, swimming, fishing, rock climbing, horseback riding, camping, picnicking, birdwatching, paddleboarding, kayaking, canoeing…the list goes on! Looking for more inspiration? Check out these 12 North Carolina Day Trips, One For Each Month Of The Year.
Address: ZipQuest - Waterfall & Treetop Adventure, 533 Carvers Falls Rd, Fayetteville, NC 28311, USA