Wilderness Cove Tubing In North Carolina Is Officially Open And Here's What You Need To Know
Wilderness Cove Tubing in North Carolina is the best way to make a splash in the waters of a mountain river while tubing in North Carolina! Prepare for a day filled with tranquil moments and even a few ever-so-small rapids to add a bit of excitement to the journey in Saluda. Here's what you need to know about this fun adventure.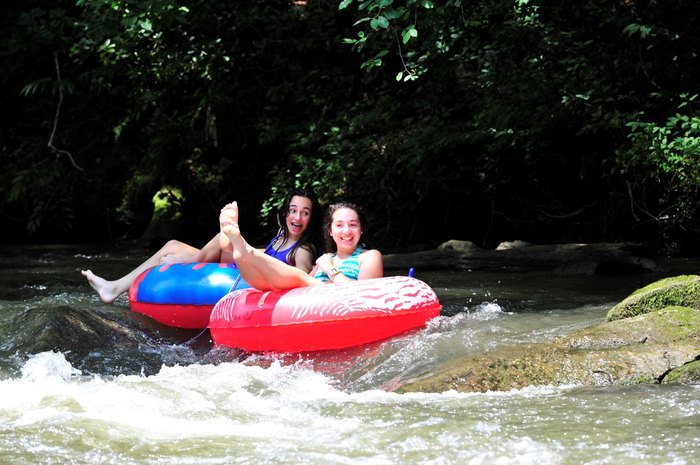 If tubing on a whitewater river in the natural beauty of North Carolina appeals to you, then there's no better place to visit than Wilderness Cove Campgounds in Saluda. Bring your love of outdoors and tubing to experience the adventure of a lifetime!
Do you enjoy tubing in North Carolina? What are some of your favorite spots? Be sure to comment and let us know below!
You might be feeling like getting in the gorgeous waters of North Carolina! Luckily, there are plenty of pristine swimming holes right here in the state.
Address: 3772 Green River Cove Rd, Saluda, NC 28773, USA
Wilderness Cove Tubing
August 10, 2022
Are there any natural lazy rivers in North Carolina?
North Carolina has many natural lazy rivers for tubing, kayaking, or any other water sport! Deep Creek in Bryson City offers plenty of tubing options for any skill level, complete with mountain and waterfall views, too! Other fantastic options include the Dan River in Piedmont, the 50-mile-long New River in southeastern North Carolina, and the not-so-scary Cape Fear River in Lilington, North Carolina.
What are the best waterparks in North Carolina?
During warmer months in North Carolina, it's not uncommon for locals and tourists to seek out the refreshing fun of a waterpark. The state boasts some of the best waterparks in the area, like the hugely popular Wet 'n' Wild Emerald Pointe in Greensboro, North Carolina. Find wave pools and plenty of kiddie attractions for the younger visitors, too. If you prefer to stay indoors, then Great Wolf Lodge in Concord is perfect for you! And lastly, there is a wonderful waterpark situated right on a beach! Take a dip at Lake Lure Beach and Water Park in Rutherford County.
What are the best outdoor adventures in North Carolina?
North Carolina is one of the best states in the nation for outdoor activities. With a huge variety of geography and green spaces, some of the best and most unique outdoor adventures include rappelling Little or Big Bradley waterfall at Green River Adventures where guests can enjoy the waterfall's pool at the bottom. Whether you choose to go rock climbing at Hanging Rock State Park, go off-roading in Uwharrie National Forest, or raft the world's largest man-made whitewater Catawba River, adrenaline seekers are in for a great time in North Carolina's outdoors!
Address: 3772 Green River Cove Rd, Saluda, NC 28773, USA