Hot Springs Is The Best Small Town In North Carolina For A Weekend Escape
From far-flung villages in the Outer Banks to tight-knit communities in Appalachia, North Carolina is brimming with small towns worthy of a visit. In fact, you could easily devote an entire lifetime to uncovering all these gems offered in the way of delicious food, traditions, and history. Yet, there's one tucked away in the Appalachian Mountains, just a stone's throw away from the Tennessee border, with all of the qualities that make small towns in North Carolina so lovable.
Not only is Hot Springs visually stunning — the river and mountain views are abundant — but it's also filled with fascinating attractions, including the geothermal waters for which the town is named. Whether you're soaking in a mineral tub overlooking the French Broad River or walking the famous Appalachian Trail which passes through downtown, you'll feel as though you've discovered your home away from home.
From the Hawaiian Island of Oahu to the coast of Massachusetts and everywhere in between, come along with OnlyInYourState as we introduce you to the best Small Town Getaways you can take this year. From nature lovers and foodies to history buffs and shopaholics, there's something for everyone within these unforgettable, two-day itineraries curated by our local travel experts just for you.
Is Hot Springs worth visiting?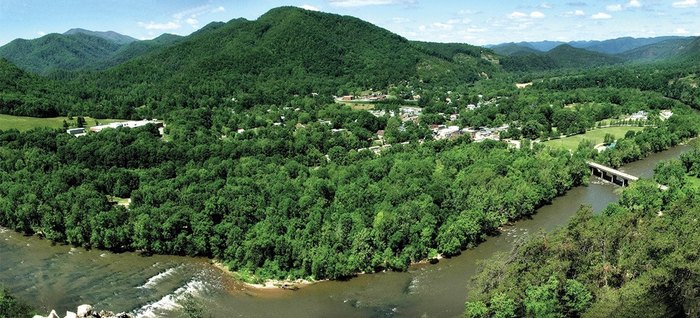 How To Get To Hot Springs
How To Get Around Hot Springs
Best Time To Visit Hot Springs
Where To Stay In Hot Springs
Morning One: Coffee And Hiking
Afternoon One: A Llama Trek, Mineral Soak, And Trailside Dinner
Morning Two: Coffee And Crafts
Afternoon Two: Rafting, Live Music, And Craft Beer
Before Heading Home: Grab A Cinnamon Roll For The Road
So there you have it: an entire weekend itinerary for visiting Hot Springs, North Carolina. We hope you've enjoyed this Hot Springs travel guide, complete with a list of Hot Springs attractions and an overview of activities in Hot Springs. From outdoor activities to impressive artwork, fascinating history, and the delightful small-town culture, you'll find there's a lot to love about this corner of the Tar Heel State. Do you agree that Hot Springs is one of the best small towns in North Carolina for a weekend trip? Share your thoughts and experiences with us in the comments.
Of course, your adventures don't have to end here. Check out this waterfall loop in North Carolina that's just a short drive away!
Address: Hot Springs, NC 28743, USA
Address: Iron Horse Station, 24 Andrews Ave S, Hot Springs, NC 28743, USA
Address: Spring Creek Tavern, 145 Bridge St, Hot Springs, NC 28743, USA