The Sledding Park In North Carolina That Will Make Your Winter Unforgettable
The only municipal sledding park in the entire Southeast is found in North Carolina in the highest town on the east coast. The peak of Beech Mountain sits a little more than a mile above sea level, making the climate on top of this enormous mountain perfect for winter activities. Of course, the town is home to Beech Mountain Ski Resort where you can ski, snowboard, ice skate, dine, shop, and more, but the town itself is also home to a wonderful sledding park that's perfect for introducing the little ones in the family to winter sports here in North Carolina.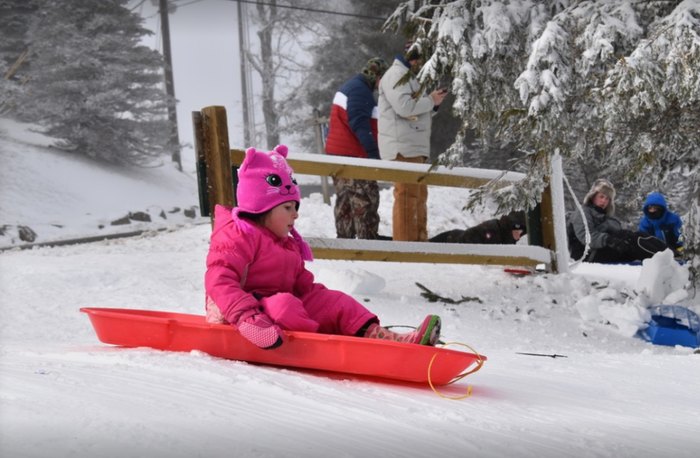 The sledding hill on top of Beech Mountain is open seasonally, Monday through Friday, and hours and details on dates are available on the website, too. Admission is free. Parking is also free. Before you go, you can call the Visitors Center to find out about snow conditions on the hill: 800-468-5506. Learn more from the website for Beech Mountain, North Carolina.
Where is your favorite place to go sledding in North Carolina? Let us know in the comments!
Beech Mountain is the snowiest town in North Carolina. While you're in the area, hit up the largest snow tubing park on the east coast, Hawksnest Snow Tubing Park!
OnlyInYourState may earn compensation through affiliate links in this article.
Address: Beech Mountain Visitors Center, 403-A Beech Mountain Pkwy, Beech Mountain, NC 28604, USA
Winter in North Carolina
December 23, 2021
What are some fun places to go snow tubing in North Carolina?
We North Carolinians know that life doesn't stop (or even slow down!) just because a little snow may fall now and again. And what better way to celebrate the winter season than with a family outing to a fun snow tubing park for some jolly fun? If you love snow tubing in North Carolina, check out the seven snow tubing parks and then start planning your next cold-weather adventure! Here are a few snow tubing parks in North Carolina:
Hawk's Nest
Moonshine Mountain
Jonas Ridge Snow Tubing Park
Wolf Ridge Resort
What else can I do at Beech Mountain?
Beech Mountain is a ton of fun all year long; in fact, it's one of our favorite places to go for outdoor recreation here in North Carolina! Because while Beech Mountain is known as a winter ski resort getaway, its summer counterpart takes on a whole new aesthetic -- and a whole new level of fun, too! The tall peaks are brimming with thick greenery, clouds float above or sometimes through the mountain and the air is crisp and cool, and there's no shortage of fun to be had. For starters, pop in to Fred's General Mercantile. This Beech Mountain staple is more than just a market - it's a historic beacon of the town. The weathered wood floors creak with each step; there are colorful candy jars packed full of various gummies, and a great beer and wine selection as well as some quick pickups if you're looking for groceries. Downstairs is also a delightful breakfast and lunch spot many locals and visitors frequent, too. When you're looking to take your adventures outdoors, you'll be delighted to find that Beech Mountain's ski slopes transform into mountain biking trails during the summer, and you can ride the ski lift up to access some of the best trails -- and views -- in North Carolina!