The Lighthouse Road Trip On The North Carolina Coast That's Dreamily Beautiful
Along the coast and on the Outer Banks, North Carolina is dotted with gorgeous and historic lighthouses. We're home to the largest brick lighthouse in the U.S, a Gothic revival lighthouse, and some that date back to the early 1800s. It's crazy to think of the history, and all of the ships that have been guided, by North Carolina's lighthouses. What a better way to experience the beauty than to make a whole road trip out of it? Our suggestion? Take around 4-5 days for the entire trip, stop along the way in the quaint coastal towns, and make the most out of this lighthouse road trip in North Carolina. For full driving instructions and the map, click here. Lets hit the road!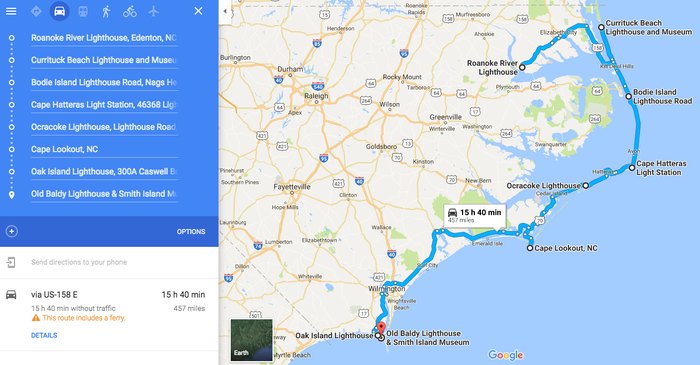 What a beautiful, fun, and coastal road trip! By now you should have salt in your hair and sand in your toes. This is a road trip we could do time and time again. Have you ever traveled down the coast and visited all of the gorgeous local lighthouses? Are there any landmarks that should be added to this lighthouse road trip in North Carolina? Share your thoughts in the comments!
If you're looking for another amazing way to explore the Outer Banks, feel like you're driving through the middle of the ocean on this 'road to nowhere.'
Address: 7 Dock St, Edenton, NC 27932, USA
Address: 1101 Corolla Village Rd, Corolla, NC 27927, USA
Address: 8210 Bodie Island Lighthouse Rd, Nags Head, NC 27959, USA
Address: 46379 Lighthouse Rd, Buxton, NC 27920, USA
Address: 360 Lighthouse Rd, Ocracoke, NC 27960, USA
Address: Harkers Island, NC 28531, USA
Address: 300a Caswell Beach Rd, Oak Island, NC 28465, USA
Lighthouse Road Trip In North Carolina
April 19, 2020
What is the most famous lighthouse in North Carolina?
Here in The Old North State, beaches abound. Our state is coveted by locals and tourists alike, both for our beaches and for our incredible landscape. However, we also have one fascinating landmark that is famous throughout the nation. The Cape Hatteras light is the tallest in the nation, and many argue that it is also the most recognizable. This black and white edifice towers over what was formerly known as the "Graveyard of the Atlantic," a portion of coast where the rough seas off of the Outer Banks has resulted in a number of shipwrecks.
Are there any other unique road trips to take in North Carolina?
There are a number of fascinating landmarks in The Tar Heel State. If you are in search of a unique road trip on North Carolina, you might enjoy a tour of our roadside attractions. Who wouldn't want to see a plastic flamingo petting zoo, or visit The Odditorium? Road trips have long been a coveted pastime here, and locals and tourists both continue to appreciate them. If you're looking for a modern take on this classic adventure, we have incredible restaurants that are worth road tripping to, as well! You can't pass up our taco trail.
What else can I do along the coast in North Carolina?

Looking for things to do on the coast of North Carolina? The real question is what can't you do on the North Carolina coast?! There's incredible dining here, there are beautiful beaches and parks, and the locals aren't so bad, either. While you're here, let your mind be open to new experiences. You'll fall in love with the local atmosphere!
Address: 7 Dock St, Edenton, NC 27932, USA
Address: 1101 Corolla Village Rd, Corolla, NC 27927, USA
Address: 8210 Bodie Island Lighthouse Rd, Nags Head, NC 27959, USA
Address: 46379 Lighthouse Rd, Buxton, NC 27920, USA
Address: 360 Lighthouse Rd, Ocracoke, NC 27960, USA
Address: Harkers Island, NC 28531, USA
Address: 300a Caswell Beach Rd, Oak Island, NC 28465, USA