Footage Of North Carolina's Abandoned Ghost Town In The Sky Will Take You Back In Time
In 1960, R.B Coburn purchased Buck Mountain near Maggie Valley. With a flair for the dramatic, Coburn believed this high-altitude location to be perfect for his very own Wild West theme park named "Ghost Town in the Sky." The park opened May 1st, 1961 and hundreds of thousands of guests rode the lift 3,300 feet to the top of the mountain to be greeted by a sight like nothing they'd seen before. Here's more on the complex and haunting history for those unfamiliar who wonder, what is Ghost Town in the Sky?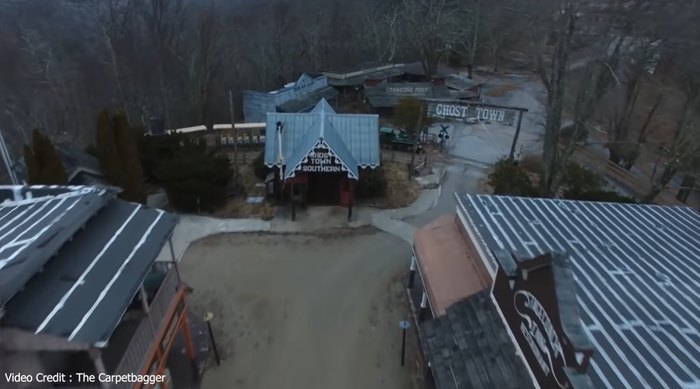 Ghost Town in the Sky photos and the video below, courtesy of Expedition Theme Park, showcase the park during its heydey while also explaining the complicated history of attempting to reopen a once-beloved landmark:
What did you think? Do you have memories of visiting Ghost Town in the Sky as a child? We'd love to hear all about your experiences and if there are other ghost towns you've explored in North Carolina in the comments below. For related content, you'll enjoy this vintage footage of North Carolina from the 1950s.
Address: Maggie Valley, NC, USA
OnlyInYourState may earn compensation through affiliate links in this article.
Ghost Town in the Sky in North Carolina
June 29, 2020
What are the best theme parks in North Carolina?
If you enjoyed reading about the Ghost Town in the Sky in North Carolina, chances are you're curious to learn about other amusement parks that are still open today. The Tar Heel State has an impressive history of drawing visitors to its lovable parks. Some of the most popular theme parks include Carowinds, Tweetsie Railroad, Santa's Land Fun Park & Zoo, Frankie's of Raleigh, and Cedar Point. These parks make a great destination for kids and adults alike, so be sure to bring the whole family!
Where can I find the best aerial footage of North Carolina?
Thanks to drone technology, aerial photographers and videographers have done an incredible job of capturing some of North Carolina's most beautiful landscapes. In fact, one of our recent articles highlights the footage captured by a drone flying high above the Linville Gorge. As you can imagine, the footage is simply breathtaking. It's also fascinating to see this bird's eye perspective of such a familiar North Carolina destination. If you're curious to see the footage, you can read our article by clicking here.
Does North Carolina have any water parks? 
You bet! North Carolina offers loads of water parks for visitors of all ages to enjoy. During the summer months, few activities are more refreshing than splashing around in a giant pool with your family. Whether you're lounging by the water or enjoying a massive waterslide, you'll be happy to have spent a few hours at any of North Carolina's top water parks. Some of these must-visit waterparks include H20BX Waterpark, Jungle Rapids Family Fun Park, Carolina Harbor at Carowinds, Lions Water Adventure, Great Wolf Lodge & Resort, Ray's Splash Planet, Sun Crest Water Park, Wet N' Wild Emerald Pointe Water Park, and White Lake Water Park. If you prefer natural swimming holes, you're in luck! North Carolina has plenty of those, too.
Address: Maggie Valley, NC, USA
OnlyInYourState may earn compensation through affiliate links in this article.