The Fairytale Road Trip That'll Lead You To Some Of North Carolina's Most Magical Places
North Carolina is home to a world of magical places to discover and they can be found all over the state, from the coast to the mountains. What better way is there to see some of them than to pile in the car and hit the road for an adventure-filled day of sightseeing some fairy tale and magical places in North Carolina? Are you ready? Let's go!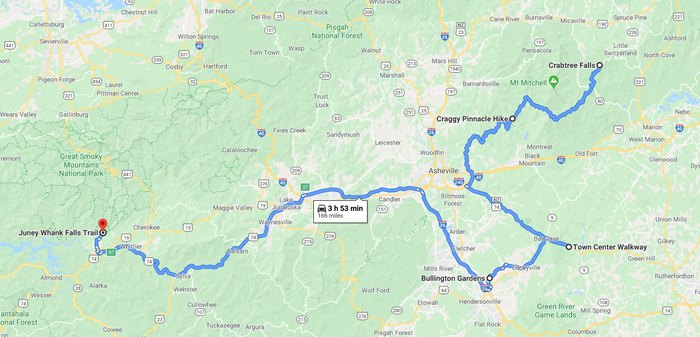 Did you have any idea there were so many magical places in North Carolina? Road trip memories are some of the best treasures we carry forth from childhood. If you love road trips as much as we do, then you should read all about The 11 Best Backroads In North Carolina For A Long Scenic Drive!
OnlyInYourState may earn compensation through affiliate links in this article. As an Amazon Associate, we earn from qualifying purchases.
More to Explore
Magical Places in North Carolina
What's the most magical place in North Carolina?
Without a doubt, the most magical place in North Carolina is the Biltmore. Easily the most famous castle in the United States, the Biltmore Estate is a place of pure magic. Built by George Vanderbilt between 1889 and 1895, this 178,926-square-foot mansion is located on 8,000 acres of pristine property just outside of Asheville, North Carolina. As the largest privately-owned home in America, it's a place of stunning scenery, lush gardens, ornate architecture, and historic relevance. While the house itself is a major attraction (the Biltmore draws over a million visitors each year), the massive and meticulously kept gardens on the estate are heavenly and only enhance the home's stunning beauty. The Biltmore is more than just a castle; it's an entire kingdom.
What are some magical hikes in North Carolina?
Fanciful footbridges, trickling waterfalls, lush forests... there are so many magical hikes in North Carolina that will make you feel like you're living your very own fairy tale! Some of our favorite fairy tale hikes in North Carolina include:
Graveyard Fields: This short hike will have you wandering through enchanting forested segments that seem plucked from the pages of a fairy tale. It seems, no matter how many times you hike Graveyard Fields, you never tire of wandering through the myriad landscapes trailing off into scenery and views that are beyond gorgeous.
Boogerman Trail: Located within the Great Smoky Mountains National Park, Boogerman Trail winds through some beautiful terrain crossing several streams — and even crossing several of them many times. From the Palmer Fork stream to the Sag Branch stream, then up to the top of Snake Ridge and then back down to cross the Snake Branch stream, you can attempt to count the number of water crossings on this hike. It's somewhere in the neighborhood of 20 crossings!
Juney Whank Falls Trail: Travel a mere three miles north of Bryson City and you'll discover an adventure that leads to a foot bridge that crosses right over (and in front of) an 80-foot waterfall. Let's take a look at this lovely little waterfall trail in North Carolina. There's no hike more magical for North Carolina waterfall chasers!
Related Articles