The Biltmore In North Carolina Gets All Decked Out For Christmas Each Year And It's Beyond Enchanting
Ask anyone who's made the journey to the Biltmore Estate at Christmastime and they'll tell you it's pure magic. With self-guided daytime tours and evening tours by candlelight, visitors can wander the estate in awe of the magnificent holiday decor that transforms America's castle into a shimmering holiday wonderland. Here's more on why a visit to the Biltmore at Christmas in North Carolina belongs at the top of your holiday itinerary.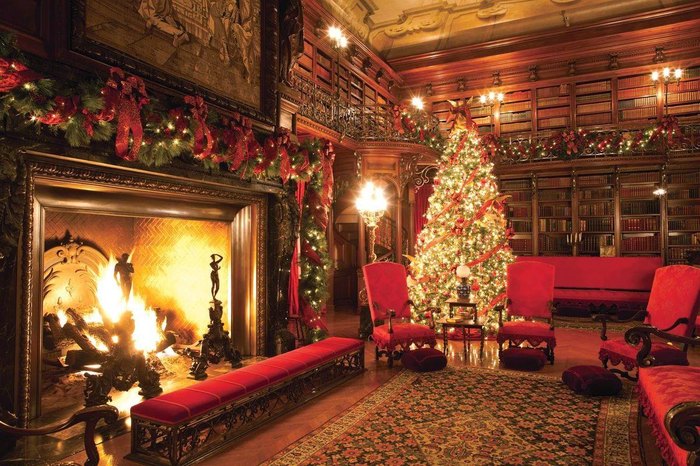 The Biltmore at Christmas in North Carolina is a pricey event; however, if you splurge for only one holiday event this year, then this is THE one. Have you been to Biltmore at Christmas in North Carolina in years past? We'd love to hear about it and to see your photos, so feel free to join the discussion!
Tickets for the most popular times tend to sell out quickly, so don't wait. You can visit the website to learn more about the Christmas Daytime Celebration at the Biltmore as well as Candlelight Christmas at the Biltmore. If you have any additional questions, you can give them a call at (800) 411 – 3812, or refer to the official website home page for the Biltmore.
Can't get enough holiday cheer this year? Visit Christmas Town U.S.A. during the month of December to light up the season!
OnlyInYourState may earn compensation through affiliate links in this article.
Address: Biltmore, 1 Lodge St, Asheville, NC 28803, USA
the Biltmore at Christmas in North Carolina
December 01, 2020
What are the best holiday events in North Carolina?
As you probably guessed from reading the article above, visiting the Biltmore Estate during the holiday season is a truly transformative experience. Not only will you get to enjoy the largest privately-owned estate in America, but you'll also experience some of North Carolina's fascinating history up-close. Plus, the decor is truly magical. Other must-do holiday events in North Carolina include Winter Wonderlights in Greensboro, Winter Lights at the North Carolina Arboretum, Speedway Christmas in Concord, Winterlights at Elizabethan Gardens in Manteo, Night of Lights in Raleigh, the Polar Express in Bryson City, Tweetsie Christmas in Blowing Rock, and Holidays at Tryon Palace in New Bern.
Is winter a good time to visit North Carolina?
One of the best parts of living in North Carolina is the opportunity to enjoy four distinctive seasons. Winter is one of the most magical, as North Carolina tends to experience some snow -- especially in the mountains -- and fresh, wintery air that will inspire you to experience the great outdoors. From frozen waterfall hikes to skiing, there's no shortage of winter activities in North Carolina. Plus, there are relatively few tourists that come through North Carolina in the wintertime, so you will likely enjoy a bit more solitude if you venture outdoors.
What can I do during the winter in North Carolina?
As mentioned above, there is plenty to do during the wintertime in North Carolina. If you're not opposed to being in the cold, you can bundle up and hike any number of North Carolina's beautiful mountain trails. Many of these trails are all the more dramatic in the winter when there are fewer leaves and therefore more visibility. If you enjoy skiing or snow tubing, there are plenty of resorts in North Carolina to get your fill. Some popular ski resorts in North Carolina include Beech Mountain Resort as well as Sugar Hill Resort.