11 Incredible Hikes Under 5 Miles Everyone In North Carolina Should Take
North Carolina is positively chock-full of hiking trails. And many of them are quite lengthy, meandering on for miles and miles as they make their way across mountains or along the coastline. Yet sometimes you want an immersive hike that can be easily completed in a day. So the next time you're looking for a great workout, unforgettable views, and relatively easy to moderate effort, check out these truly amazing hikes under 5 miles in North Carolina.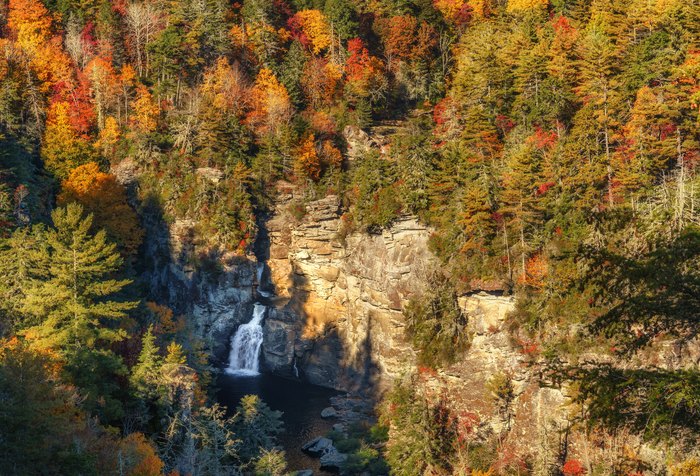 What are your thoughts on these hikes under 5 miles in North Carolina? It truly is amazing how many diverse hiking trails our state has, and to be honest, I was a bit surprised by how amazing they are for their relatively short distance. Now you have no excuse not to get out and get active! What are your favorite hikes in North Carolina? Have you hiked any of these trails before?
Address: Linville Falls, NC 28752, USA
Address: Carolina Beach State Park, 1010 State Park Rd, Carolina Beach, NC 28428, USA
Address: Pilot Mountain, NC 27041, USA
Address: Old Mt Mitchell Trail, Burnsville, NC 28714, USA
Address: Flat Laurel Creek Trailhead, Canton, NC 28716, USA
Address: Whiteside Mountain, North Carolina 28741, USA
Address: Crabtree Falls, North Carolina 28777, USA
Address: Hickory Nut Falls, North Carolina 28746, USA
Address: Craggy Gardens Visitor Center, Blue Ridge Parkway, Black Mountain, NC, USA
Address: Mount Mitchell State Park, 2388 NC-128, Burnsville, NC 28714, USA
Address: Hanging Rock State Park, 1790 Hanging Rock Park Rd, Danbury, NC 27016, USA
hikes under 5 miles in North Carolina
November 09, 2020
What are the best short trails in North Carolina?
Our article highlighting some incredible hikes under 5 miles in North Carolina should give you a good start, but it's by no means the conclusive list. If you're curious to explore some other short and beautiful trails in North Carolina, there are plenty more that belong on your radar. These include Devil's Courthouse Trail, Max Patch, Waterrock Knob, the Green Knob Fire Tower, Black Balsam Knob, and Rough Ridge.
Does North Carolina have any hidden gems?
Yes! North Carolina has an abundance of hidden gems, ranging from little-known eateries to fantastic hikes leading to sprawling mountain views. In fact, you could easily devote an entire lifetime to exploring all of North Carolina's hidden gems. Some of these destinations include the Land of Oz Theme Park in Beech Mountain, Devil's Tramping Ground in Bear Creek, the Blue Ghost Fireflies in Hendersonville, the Cryptozoology and Paranormal Museum in Littleton, and the Bunker Hill Covered Bridge in Claremont.
What is the tallest mountain in North Carolina?
North Carolina is renowned for having the tallest mountain on the East Coast, which is Mount Mitchell. This towering peak stands at 6,684 feet above sea level. This breathtaking summit is the tallest east of the Mississippi River, and it's accessible to drivers and hikers alike. Tourists from all over venture to Mount Mitchell State Park to marvel at the unique ecosystem and explore the beautiful alpine trails. Curious to learn more about Mt. Mitchell? Read all about this incredible North Carolina state park.
Address: Linville Falls, NC 28752, USA
Address: Carolina Beach State Park, 1010 State Park Rd, Carolina Beach, NC 28428, USA
Address: Pilot Mountain, NC 27041, USA
Address: Old Mt Mitchell Trail, Burnsville, NC 28714, USA
Address: Flat Laurel Creek Trailhead, Canton, NC 28716, USA
Address: Whiteside Mountain, North Carolina 28741, USA
Address: Crabtree Falls, North Carolina 28777, USA
Address: Hickory Nut Falls, North Carolina 28746, USA
Address: Craggy Gardens Visitor Center, Blue Ridge Parkway, Black Mountain, NC, USA
Address: Mount Mitchell State Park, 2388 NC-128, Burnsville, NC 28714, USA
Address: Hanging Rock State Park, 1790 Hanging Rock Park Rd, Danbury, NC 27016, USA